Disclaimer: Products with a "Visit Site" button pay to access additional features

Seedly's Product Comparison Page Listing Guidelines
For Credit Cards products to be listed on Seedly's Product Comparison Page, they have to fulfil the following criteria:
Monetary Authority Singapore (MAS) Licensed Bank
Offers either cashback, miles or reward points for online or offline payments
Looking For The Best Credit Card in Singapore?
It's easy to feel overwhelmed by the sheer amount of credit card options offered by banks - particularly if you're looking to get your first credit card. From benefits, points and air miles to cashback rewards, where should you even start?
Then there's the possibility of getting a bad credit score, no thanks to poor money management habits or accrued credit card interest. These could inevitably affect you in the long run, especially if you require a bank loan for your first HDB BTO, for example.
But did you know certain credit cards can in fact help you save money?
Before delving into your comparison, it's important to first understand what getting a credit card entails, and the importance of maintaining a good credit score.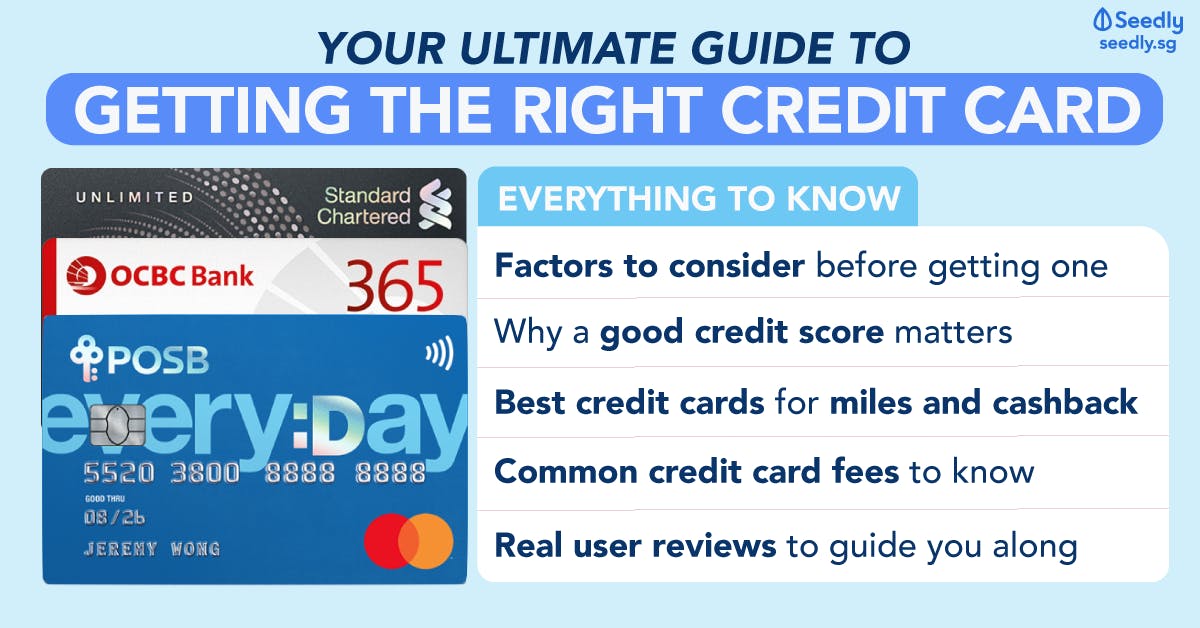 What to Consider Before Getting A Credit Card
Before narrowing in on credit card user reviews, first consider the following:
Will you be able to pay your bills on time?
Unless you're getting a student credit card, it's highly likely you'll be required to meet a minimum salary requirement prior to having your credit card application approved.
You'll also have to pay your bills within the stipulated timeframe on your statement, or face late payment charges - including increased interest rates on the owed sum.
Will you be able to maintain a good credit score?
Your credit score tells banks and lenders how reliable you are in paying your credit card bills on time. A poor credit score could affect how much you can borrow - or even your ability to borrow.
We'll admit it's a bit of a catch-22; you'll need a credit card to even develop a good credit score, yet having a credit card poses the risk of earning a bad credit score.
Your borrowing history is compiled in something called a credit bureau report, and can be obtained from the Credit Bureau of Singapore for a fee of $6.
What do you spend most of your money on?
Are you a chronic Grab user or guilty of indulging in copious amounts of overpriced coffee? Making credit card comparisons can be tricky if you have little idea of your own spending habits.
Using a personal finance management tracker (like - ahem - the Seedly app) or an Excel sheet could help you better identify where most of your money goes, so you'll be able to reap the full benefits of your card.
Do you shop online or offline more often?
Credit cards are not one and the same. Some reward users for online spend - or, conversely, local spend on everyday necessities.
And if you plan on shopping overseas (or in an online store that's based outside of your home country) with your credit card, you'll need to factor in possible foreign currency conversion fees.
The Best Credit Cards in Singapore 2021
With these tips in mind, here's a round-up of the most popular types of credit cards in Singapore, sorted by category.
Best Credit Cards for EZ Link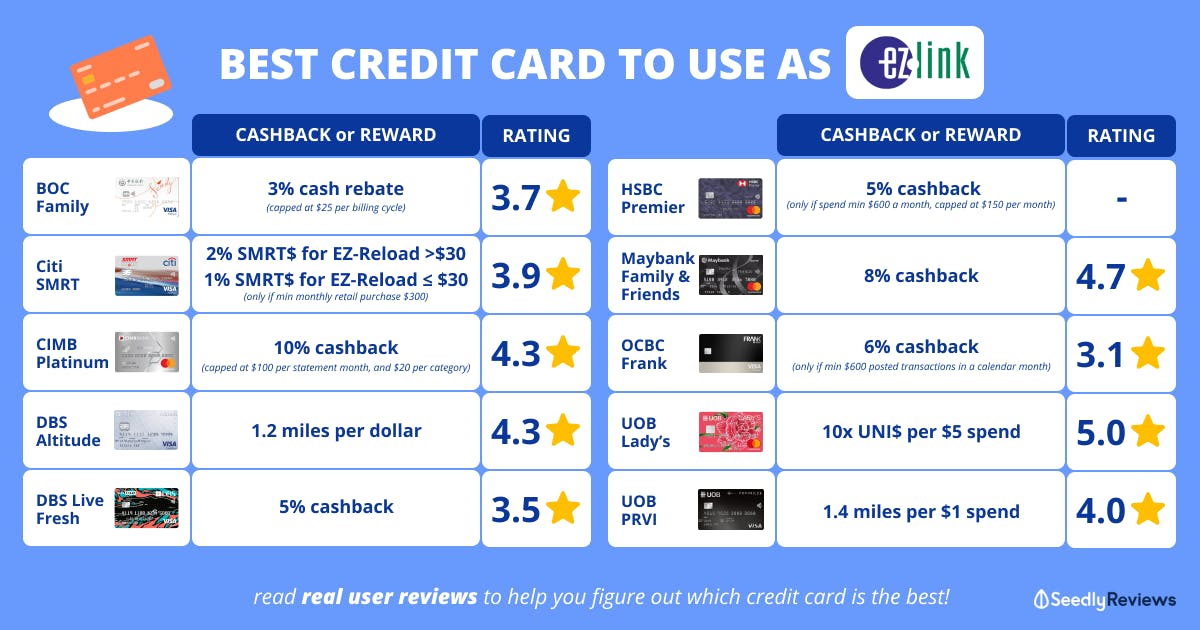 testing
Best Miles Credit Cards
Miles cards are popular in Singapore because users are rewarded with air miles for Visa/Mastercard transactions. The mileage you claim is pegged to the amount you spend, and we've already done the math for you here in this Guide to the Best Miles Cards.
Here are some of the best miles cards offered:
Best Cashback Credit Cards
With a cashback card, you'll be rewarded for spending on dining, groceries, online shopping, hotel stays and entertainment - plus everything in-between.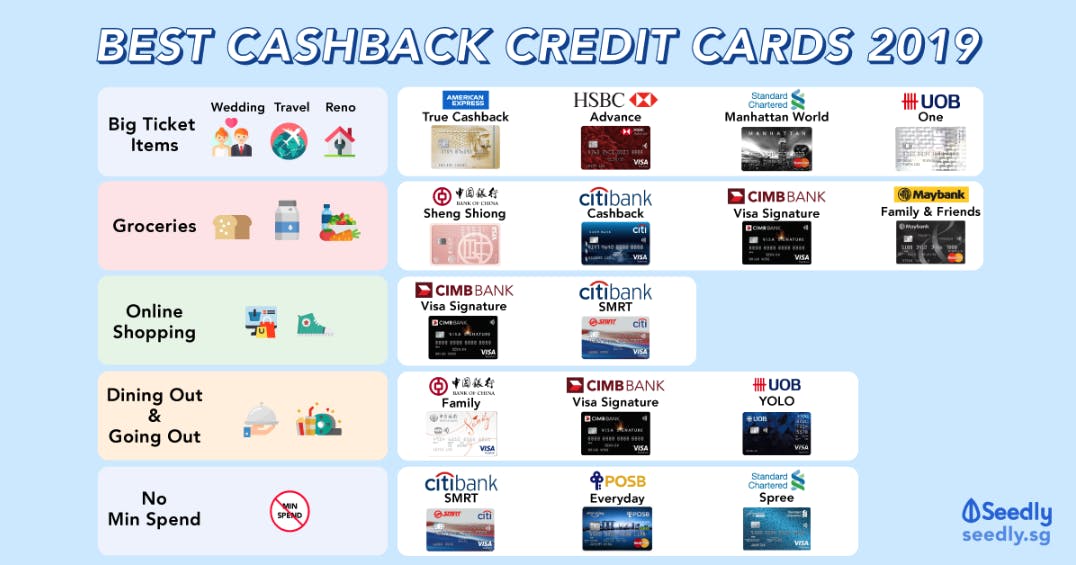 Other great cashback credit cards:
Best Rewards Credit Cards
If you fancy the idea of redeeming rewards in the form of vouchers for movies, shopping, dining, hotel stays and air miles, then these rewards credit cards may be something worth considering.
Best Student Credit Cards
Being a student comes with a ton of benefits, whether food or entertainment discounts. And then there're student credit cards, whose prerequisites are considerably lower: no minimum income requirement, no minimum spend, and far lower annual fees.
Common Credit Card Fees
More often than not, your credit card will come with additional charges. It's imperative that you read the fine print, so don't be blinded simply by credit card perks!
Here're some terms to know.
Annual Fee: This refers to a yearly fee charged for the convenience of having a credit card. Most banks typically offer an annual fee waiver, so long as you make the request by calling in. This is especially the case if you've been using your credit card with fair regularity.
Balance Transfer Fee: A balance transfer is what happens when you transfer your credit card debt to another card issued by a different bank. In doing so, you'll be charged a balance transfer fee of around 2% to 4% of the amount transferred.
Cash Advance Fee: A cash advance allows you to withdraw money from an ATM using your credit card, and usually includes a fee of 6% on the amount drawn.
Foreign Transaction Fee: Convenient as it may be to swipe your credit card while on holiday, we earlier mentioned the charges you'll be subject to - including the dynamic currency conversion rate, which will be charged at the point of your transaction.
Multi-currency cards are filling this void, though, by allowing overseas transactions to be made at no extra cost. Exchange rates are also shown in real-time, so you'll more or less be living like a local even while on holiday.
Late Fee: Yep, we're again reiterating this. That's because a credit card's interest rates hovers at around 24% of the amount owed. Banks do offer a grace period of between 21 to 25 days, but ignoring this window is an expensive mistake you don't want to make. So take heed!
What Are The Easiest Credit Cards to Get Approved For?
So: what credit card can you get with a poor credit score? This really comes down to the discretion of the bank whose credit card you're applying for.
There are some ways to improve a bad credit score, though.
The Credit Bureau of Singapore only tracks your borrowing history over a 12-month period - so you'll only need to maintain that to recover from a poor record. You should also:
Avoid taking too many loans within a short amount of time
Cancel inactive credit cards, or those you don't use regularly
Avoid applying for too many credit cards
Pay your bills on time!
How To Choose the Best Credit Card For Yourself
Apart from user reviews on credit cards - we've an exhaustive list for your perusal - these guides are an excellent segue into the world of credit cards, no matter your spending habits.
If you've still got burning questions after reading real user reviews on the best credit cards in Singapore, head on over to the Seedly Q&A platform! You'll be able to pose your questions anonymously, too.