Disclaimer: Products with a "Visit Site" button pay to access additional features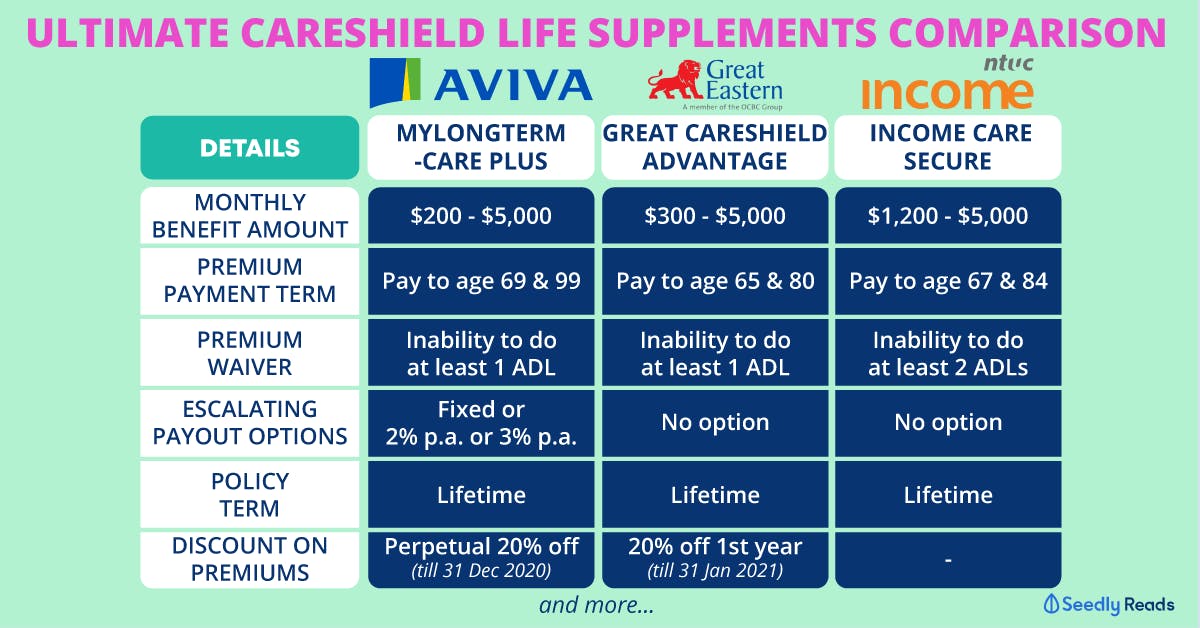 Disability Insurance is probably one of the most important insurance policies for adults in 2021. Being physically fit does not entirely ward away the possibility of being disabled. There might be unforeseen circumstances that may befall us. Hence, having coverage from disability insurance to help alleviate the potential loss of income through monthly payouts will be significantly helpful.
Best CareShield Life Supplement Plans Review in Singapore 2021
There are a total of 3 CareShield Life Supplement Plans in Singapore, they are (in no particular order):
1. Great Eastern GREAT CareShield
2. AVIVA CareShield MyLongTermCare
3. NTUC CareShield Income Care Secure
Check our our blog post on CareShield Life Supplement comparisons - is it worth it to upgrade to AVIVA, Great Eastern or NTUC Income Supplement plans?
What is CareShield Life Supplement?
Similar to Medishield Life, CareShield Life only provides basic coverage; people who prefer more comprehensive coverage can opt for CareShield Life Supplement plans for better peace of mind. CareShield Life Supplements provide additional useful benefits like higher monthly payouts, death benefits, dependent benefits, etc.
CareShield Life vs CareShield Supplement
What is CareShield Life?
Singaporeans and PRs are covered by a basic long-term care insurance called the CareShield Life. CareShield Life seeks to provide financial relief in the event of severe disablement via monthly payouts starting at S$600, which subsequently increases over time.
In an effort to keep healthcare costs affordable, individuals can use their Medisave to pay for their own or their family members' CareShield Life Premiums. Additionally, CareShield Life is also applicable for subsidies for eligible households.
This is a type of
Criteria for Severe Disability
Out of 6 Activities of Daily Living (ADLs) - washing, dressing, feeding, toileting, moving, and transferring - so long as someone faces the inability to perform any 3 ADLs, they are MOH-accredited to be severely disabled. This is the criteria for claiming their CareShield Life payouts.
What does CareShield Life Cover?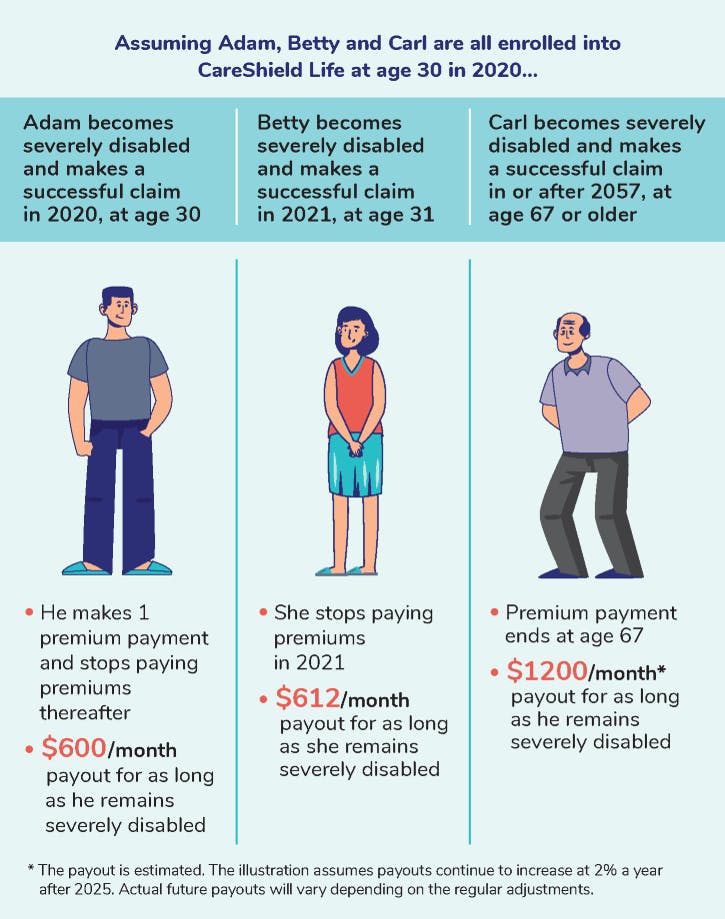 Source: CareShieldLife.gov
Lifetime coverage for disability after full payment of your premiums - which will occur when you turn 67 years old OR upon 10 years maturity of the policy, whichever is later
Lifetime cash payouts as long as you are severely disabled
Worldwide coverage - make a claim regardless of where you are residing, and receive payouts
Payouts start from $600 and will increase annually.
From 2020 to 2025, payouts will increase at 2% per year. Thereafter, payout increases and corresponding premium adjustments will be recommended by an independent CareShield Life Council.
Who does CareShield Life Cover?
For those born in 1980s or later: you will be automatically covered when you turn 30, regardless of pre-existing medical conditions and disability.
For those born in 1979 or earlier: Participation is OPTIONAL.
For those born between 1970 and 1979, are insured under ElderShield 400 and not severely disabled: you will be automatically enrolled into CareShield Life, but can opt-out if you wish to do so.
How much does CareShield Life Cost?