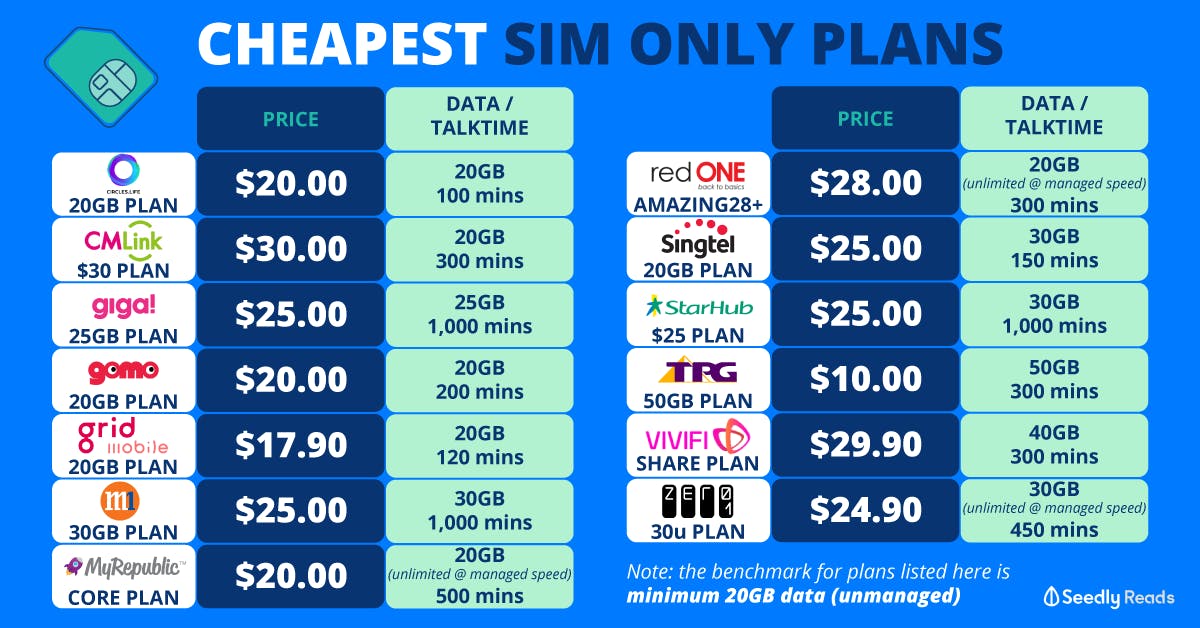 Best SIM Only Mobile Plans in Singapore 2020
Currently there are 13 telcos in Singapore, each having a competitive advantage in their mobile plan packages:
Each of them offering a range of phone plan and SIM only plan.
Factors to consider while choosing mobile plans:
Price of the mobile plan
Data and call time of the mobile plan
Network Performance (reception)
Flexibility to customize plan
Flexibility to roam
Customer service efficiency of the telco
Other additional services and perks
Tools to help you choose the best mobile plan in Singapore?
To help Singaporeans make smarter personal finance decision, here is an article and a comparison tool to help you choose the best telco plan:
If there are still questions after reading Real User Reviews on the savings account, ask the community at Seedly Community.
Which is better? SIM Only Plan vs Phone Plan
Most Singaporeans decide on a 2 years phone plan with the telcos mainly because
It is the only plan they know
They are on a Corporate plan and hence, price does not really matter to them
In our previous article on Which Singapore Telco is the best for you?, we ran some number on how much one would have saved if he opted for a SIM-Only plan instead of a phone plan.
Here are some of our findings:
A consumer who is keen on a Samsung Galaxy S8 Plus 64GB looking to renew his StarHub 2-Year Plan that cost $48 per month will ultimately pay a total of S$1,951 after 2 years.
We compare this with a consumer adopting another strategy, which is:
Sign up for a SIM-Only Plan
Purchase his mobile phone through Carousell
This consumer will spend S$1,584 over 2 years, saving himself S$367 in the process.
How to apply for a mobile plan?
One can either head down to a branch or apply for their mobile plan online, depending on the telco that he is going for.
Documents required to apply for a mobile plan:
If you are a Singapore Citizen or Permanent Resident:
Original IC (or passport)
If you are a foreigner:
Employment Pass/Work Permit/Social or Dependent Pass with at least 6 months validity to date of expiry
Purchase Agreement/Tenancy Letter (with proof of more than 6 months occupancy)
Passport
If you are a New Business Customer:
Form 9 (Change of company name due to company incorporated)
Form C (Certificate of registration for a new business firm)
Form K (Renewal for business firm)
Form 83 (Foreign company)Depending on the bank, application for a savings account can be done within a week.
If you are applying on behalf of someone, these are the additional documents required:
Letter of authorisation letter signed by the applicant