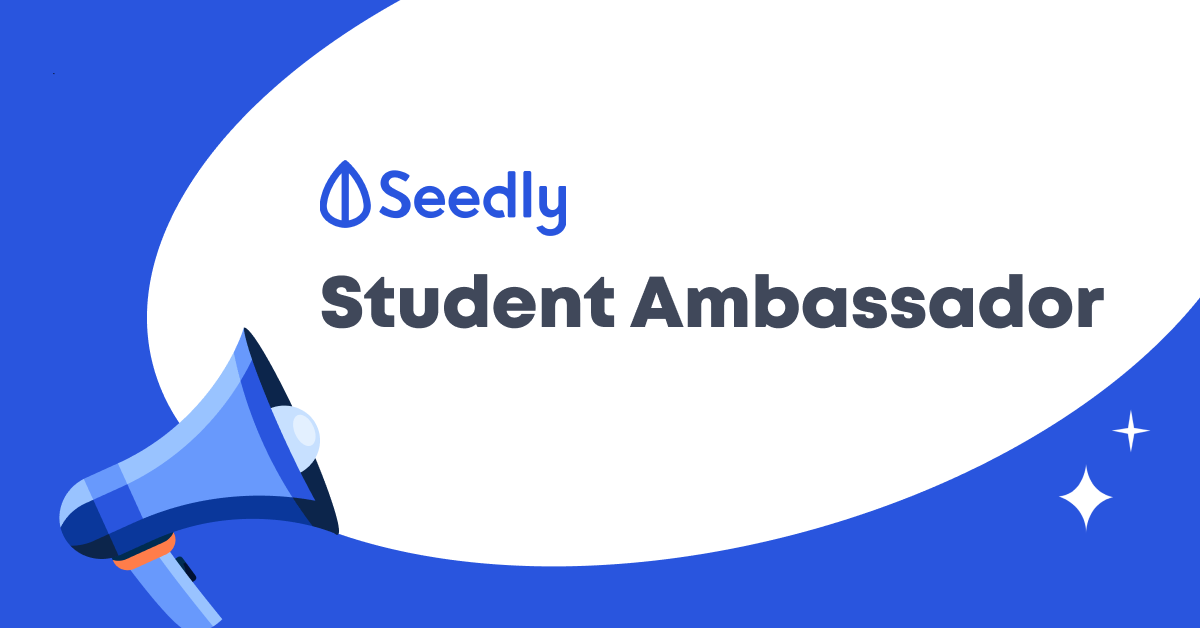 Seedly Student Ambassador
Formed in 2019, the Seedly Student Ambassador (SSA) programme recognises young minds in Singapore who are passionate about personal finance. The programme aims to empower students with the skills to excite and educate the Seedly community about the basics and importance of personal finance!
As an SSA, you will work with the Seedly team to grow and add value to the Seedly community, while personally growing and becoming thought leaders in personal finance!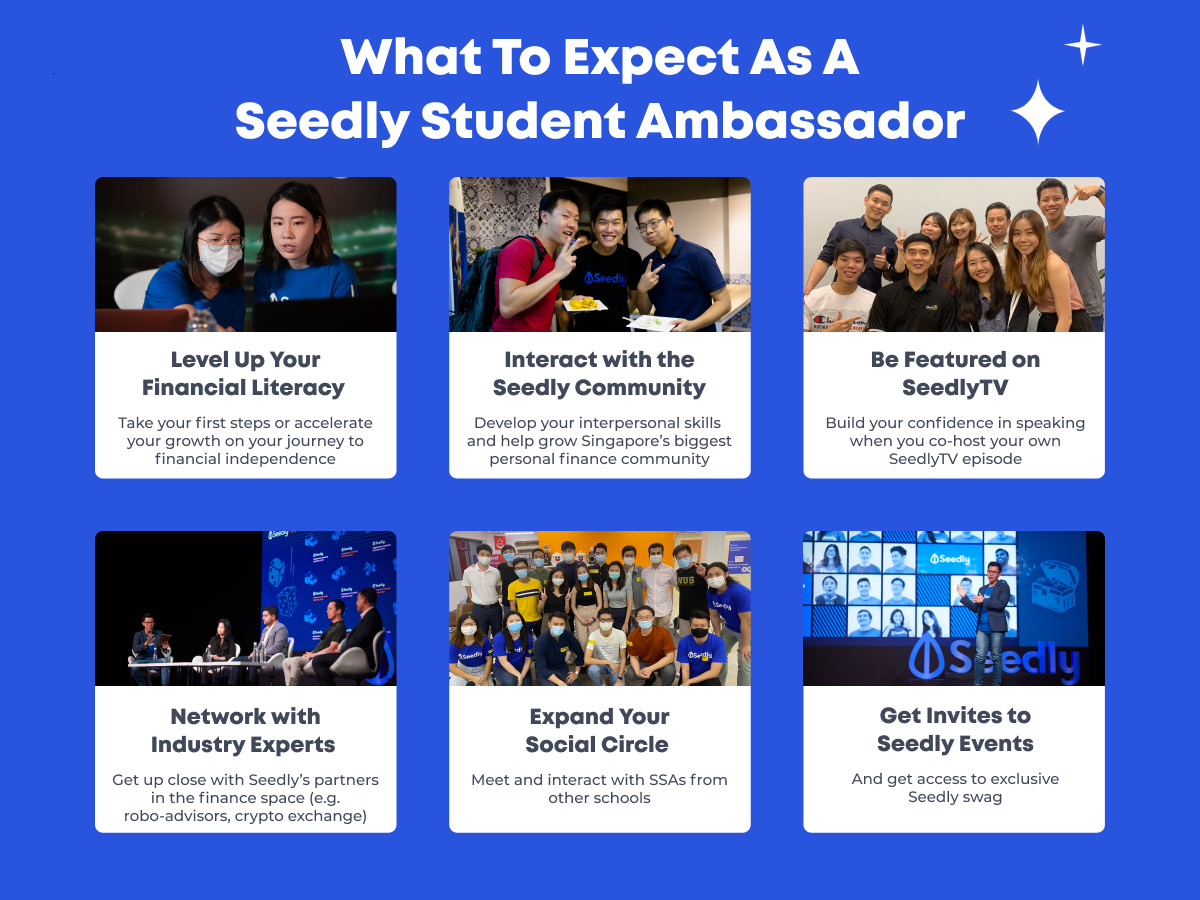 While the programme is NOT a full-time role and you are able to contribute based on your schedule. Getting the full experience out of the SSA programme will require your enthusiasm and active participation.
I mean, that's the best way to do anything right?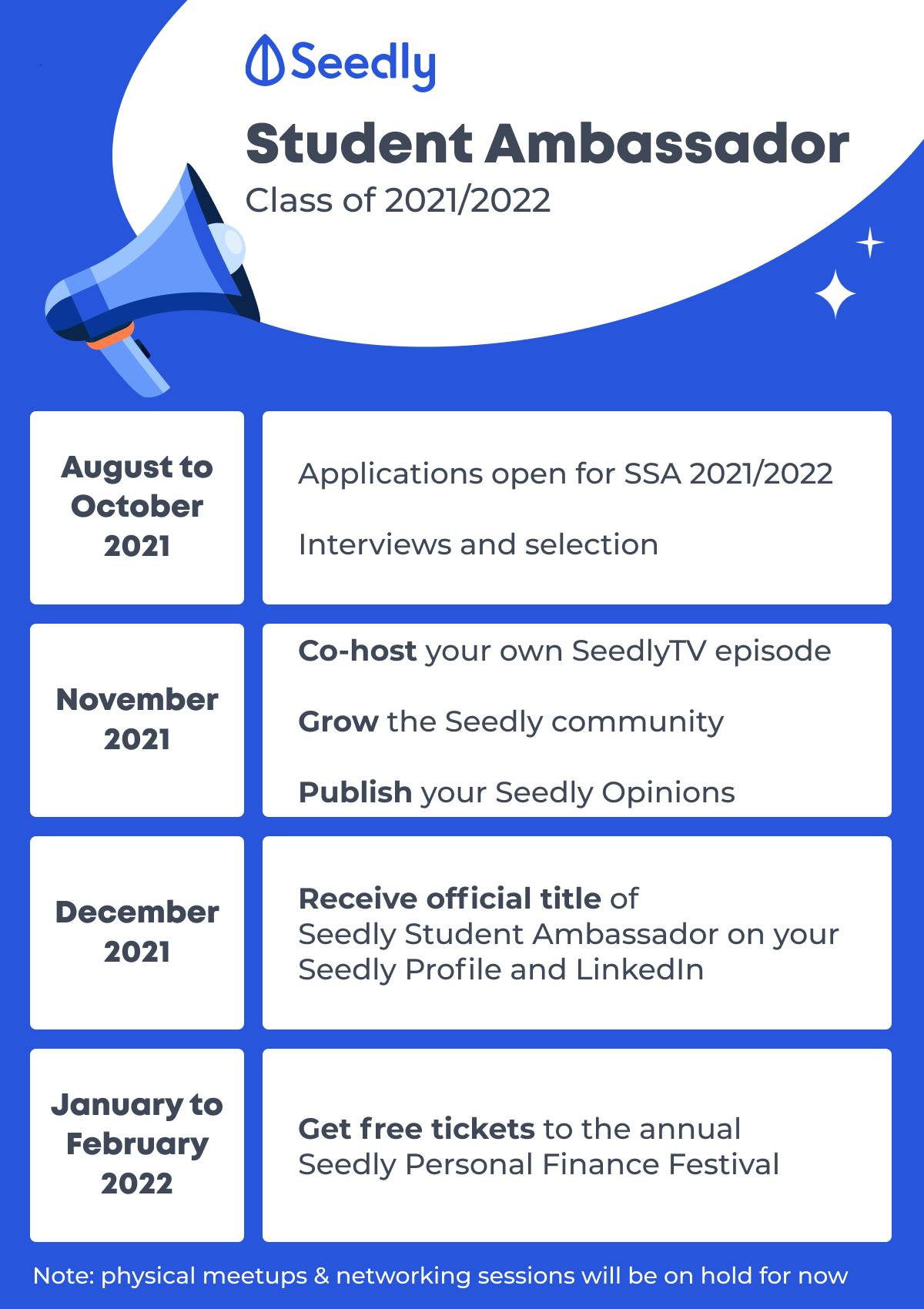 But hey, you'll have plenty of fun, make lots of new friends, form invaluable networks, and gain or expand your knowledge along the way.
And that's always a worthy investment of your time as you journey towards financial independence and freedom.
So if you're thinking of adding a 'chill' notch to your belt for your resume, swipe left. I mean, please do not apply.
Seedly Student Ambassador Requirements
The SSA is open to students in the second to final year of their tertiary education, at an officially recognised University.
On top of that, you should have:
a passion for everything personal finance (e.g. saving, budgeting, investing)
a certain level of knowledge in personal finance (don't worry, we all know something and have to start somewhere!)
a creative, fun, resourceful, and hardworking personality
excellent communication and written skills
If you have what it takes, then we want YOU!
Seedly Student Ambassador: How to Sign Up?
Be a member of the Seedly community. Sign up for a FREE Seedly account if you don't have one yet.
Participate in the community, earn points, and level up to at least level 5 (39 points) by the end of September 2021.
Submit your application here and we'll be in touch soon!

Don't worry if you aren't at level 5 yet, you've still got plenty of time to get to it after application.
Earning points is pretty easy, just be active on the Seedly community. You can earn points by starting a Discussion (1 point), commenting or replying (1 point), writing a Review (4 points). Or getting an upvote (1 point) for your contribution.
Seedly Student Ambassador: Class of 2020/21
Meet the Seedly Student Ambassadors Class of 2020/21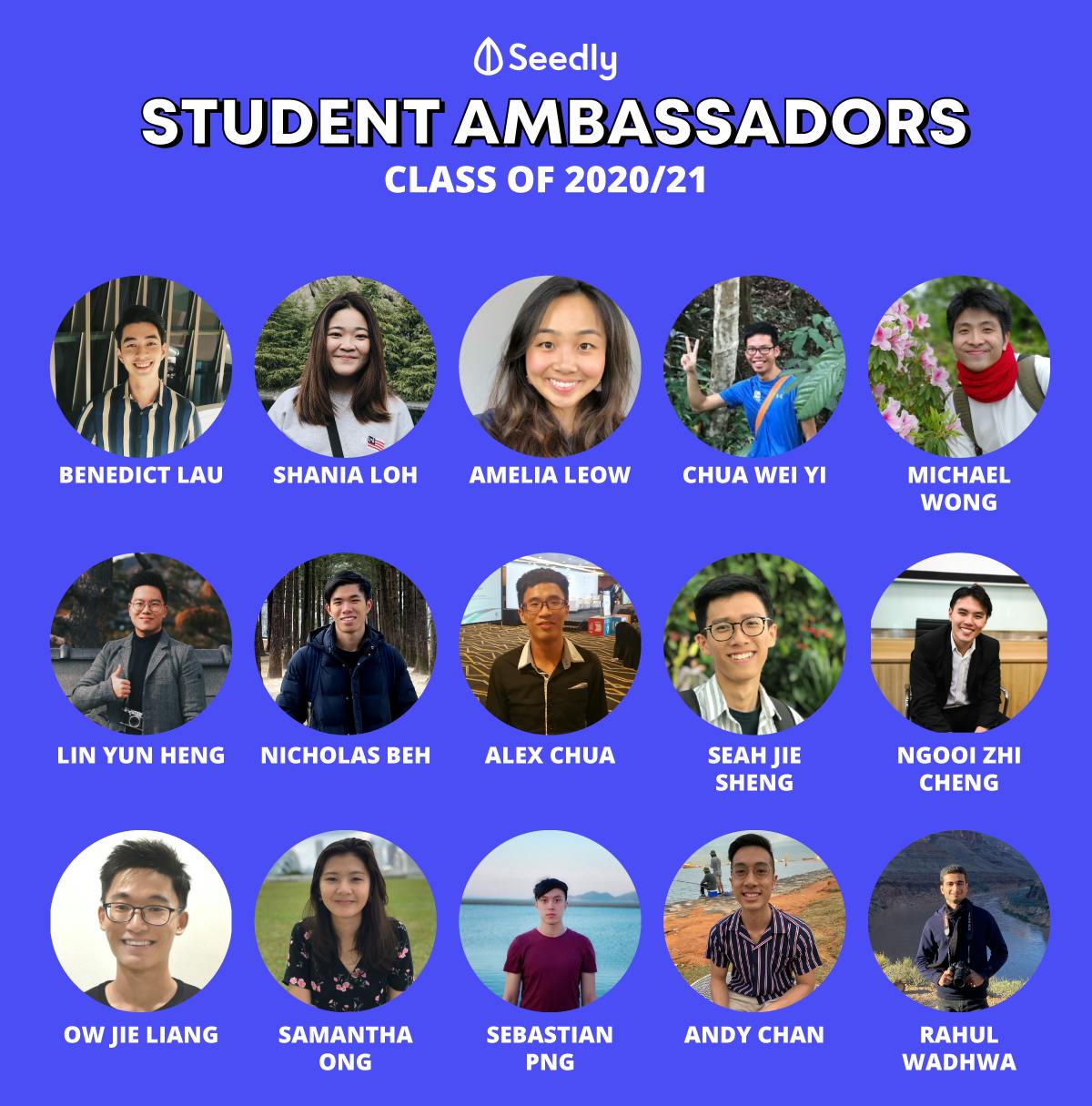 Singapore University of Technology and Design (SUTD)
Check out his published Seedly Opinions:
Alex's interest in personal finance stems from his belief in creating more options for himself, while also creating value for others. He strongly believes that money can be a boon or a bane, and changes in mentality and daily habits are key to achieving financial independence and freedom. As an investor, he views his investment journey as one of personal growth that he hopes to be able to share as an Ambassador. He aspires to break into the fintech space and views blockchain as the potential answer to alleviating income inequality.
National University of Singapore (NUS)
Check out her published Seedly Opinions:
An NUS School of Computing student with a major in Business Analytics and a specialisation in Financial Analytics, Amelia's interest and involvement in the world of finance started after she working at Smartly, a robo-advisor that has since ceased operations in Singapore. Over the past summer, she worked at a venture capital firm as an investment analyst and was exposed to the local private equity scene. In her spare time, she blogs about entrepreneurship and venture capital news and also creates YouTube vlogs about her student life in NUS.
National University of Singapore (NUS)
Check out his published Seedly Opinions:
Andy committed his first investment mistake when he signed up for an 8-year endowment plan where he had to pay huge premiums for the first 5 years. That cost him his plans to go on an overseas exchange but it was the catalyst for his journey towards financial freedom. Determined to get better financially, he spent his time improving his financial knowledge by reading regularly and even attending workshops organised by companies in the finance space. Even without access to a huge amount of capital, he started with a regular savings plan whilst building up his expertise in ETFs, insurance, CPF and housing. Personal finance may seem complex and daunting, but as an Ambassador, he wants to help others make prudent financial decisions as much as he can.
National Technological University (NTU)
Check out his published Seedly Opinions:
Benedict first chose to specialise in finance due to his interest in the stock markets. On his personal finance journey, he realised that he felt a great sense of satisfaction and fulfilment when he was able to share his financial knowledge with his peers and help them improve their financial situation. This spurred him on to develop his expertise in personal finance and wealth management in hopes of being able to one day, help more people achieve their financial goals.
National Technological University (NTU)
Check out his published Seedly Opinions:
Despite his background in civil engineering, Wei Yi has accrued quite a bit of experience in the world of finance. A fan of Warren Buffett, he studied his investment techniques and became adept at scrutinising Profit/Loss accounts and balance sheets. After learning how to analyse and look for companies that are doing financially well, he eventually bought his first stock at 18. Besides investing, he lives a simple lifestyle and believes in buying less Fila and more Bata. His goal as an Ambassador is to help people see the value of saving, and that you can enjoy homemade coffee as much as Starbucks.
National University of Singapore (NUS)
Check out his published Seedly Opinions:
A self-starter, who is highly motivated and able to work with minimal supervision, Yun Heng is an Ambassador with numerous hobbies across different fields of disciplines including photography. His thirst for knowledge and ability to self-learn are key strengths that have served him well on his journey to becoming a personal finance thought leader. He also started a blog to detail his endeavours in personal finance and investments in hopes of helping those around him gain financial literacy.
SIM-University of London
Check out his published Seedly Opinions:
A straight-talker who doesn't mince his words, Michael's opinions and advice are as balanced as they come as he doesn't believe in recommending financial products or promoting his own interest for personal gains whenever he contributes on Seedly. He might not be the most knowledgeable (or so he claims), but he more than makes up for it with his inquisitive mindset and hunger for knowledge. As an Ambassador, he hopes to come out of this as a go-to guru whom others can depend on for an honest perspective on all things personal finance.
National Technological University (NTU)
Check out his published Seedly Opinions:
With a background in accountancy and a strong interest in personal finance, Zhi Cheng started his personal finance journey by creating IG posts on multi-currency card comparisons to help students, like himself, going on exchange. He eventually moved into short vlogs about insurance and career self-help, and even TikTok where he creates content on personal finance topics. A firm believer in portfolio asset allocation, he currently holds a small portfolio managed via Stashaway, Syfe, FSMOne and a 101 ILP. Need professional help? Hit up Zhi Cheng, as he also has a license to distribute insurance products and a certificate in Financial Planning Competency.
National Technological University (NTU)
Check out his published Seedly Opinions:
Nicholas's foray into personal finance started when his father asked him to look for a better savings account for him. That search eventually led to him optimising other areas of his family's finances such as credit cards, investments, insurance, taxes, and even property. As a Seedly Student Ambassador, Nicholas hopes to share his knowledge on how to find the best deal (and always be on the lookout for better options).
National Technological University (NTU)
Check out his published Seedly Opinions:
As an engineering student with no formal training or background in business or finance, Jie Liang learnt about the importance of financial security and freedom from his parents. In hopes of providing more for the family, his father tried his hand at investing but was adversely affected during the 2008 Financial Crisis. Despite this setback, his parents saved whatever they could to eventually put him through university. With these lessons in mind, Jie Liang strongly believes in the need for financial literacy and awareness. He hopes to reach out to like-minded people and positively influence those who are looking to take their first steps on their journey to financial independence and freedom.
National University of Singapore (NUS)
Check out his published Seedly Opinions:
Rahul started investing in companies in the Straits Times Index back in March 2019 and has ventured into other more complex financial instruments after reading and learning from others in the Seedly community. As an Ambassador he hopes to share his knowledge and help educate others along the way.
Singapore Management University (SMU)
Check out her published Seedly Opinions:
No stranger to money management, Samantha has been managing her own finances ever since she started working part-time after her A-Levels. She eventually decided to major in Finance and Strategic Management in order to give herself a solid foundation upon which she can work towards her financial freedom. A prudent and conservative individual, she likes to conduct thorough research, explore various choices, and weigh the pros and cons before making her decision — hallmarks of a successful investor who does her due diligence before putting her money to work.
Singapore Management University (SMU)
Check out his published Seedly Opinions:
Jie Sheng has been managing his own finances since 2016 when he started to pay for his own expenses and utilities without receiving an allowance from my parents. How was he able to do this? He started a small business on Carousell reselling electronics that he managed to snag via various deals and promotions on various platforms. Besides his entrepreneurial mindset, he also has a habit of purchasing only what he needs and loves maximising his savings. Want to find out where to get the latest and best lobang in town? Hit up Jie Sheng for more!
National University of Singapore (NUS)
Check out his published Seedly Opinions:
A strong believer in personal development, Sebastian is an avid reader of finance-related literature and actively attends talks and events like Investomania, National Achievers Congress, and Innovfest Unbound to grow his personal finance knowledge. He doesn't consider himself to be an expert but as an Ambassador, it allowed him to connect with like-minded individuals in the Seedly community and he has learnt much from his fellow Ambassadors. Ultimately, he hopes to inspire others to embark on their own personal finance journey too.
National Technological University (NTU)
Check out her published Seedly Opinions:
Shania started reflecting on her savings and spending habits during the Circuit Breaker and realised that she needed to make changes and take responsibility for her financial future. She first turned to the Seedly blog and community for information and advice. Over time, she eventually grew confident in her knowledge and decided to pay it forward by helping others with their questions. As an Ambassador, she hopes to be able to help others who are struggling with their personal finances — just like she was at the beginning.
SeedlyTV: Student Ambassador Edition
Besides helping to grow the Seedly community, all Seedly Student Ambassadors will also have a chance to be featured on SeedlyTV!
Here're the latest episodes of SeedlyTV: Student Ambassador Edition where our SSAs share and discuss various personal finance-related topics!