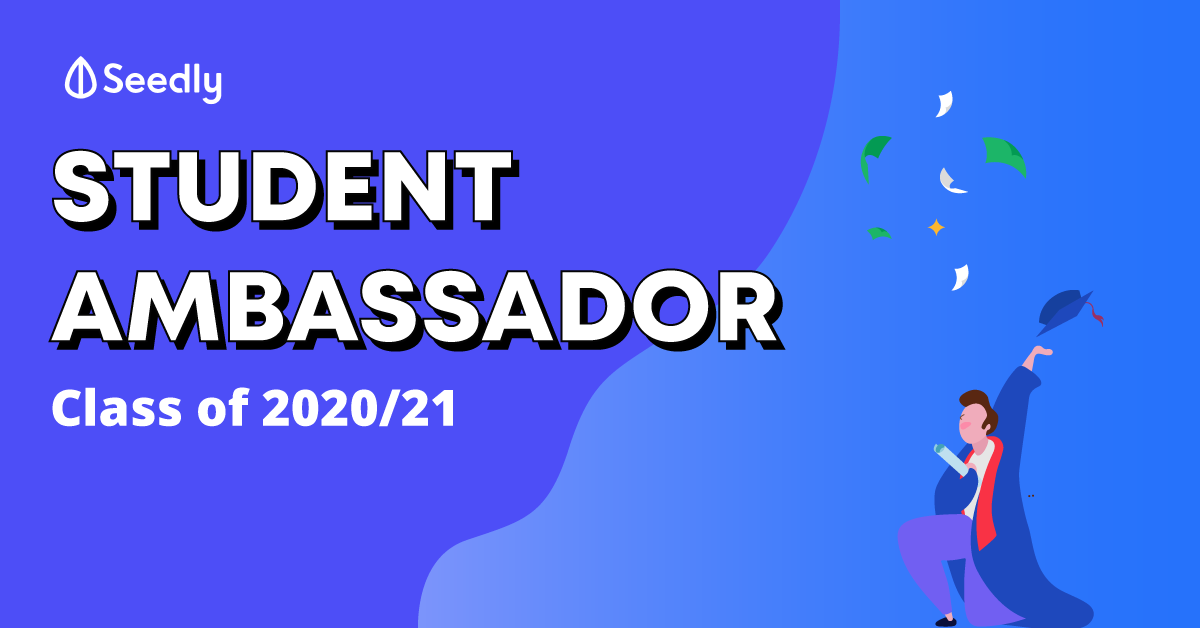 About Seedly Student Ambassador Program
The Seedly Student Ambassador Program recognises young minds in Singapore who are passionate about personal finance.
It aims to empower students with a strong passion for personal finance to excite and educate the Seedly Community.
We 'Jio' you to be a bigger part of the Seedly Personal Finance Community, network with industry experts, and connect with other like-minded students, all whilst having lots of fun along the way!
The Seedly Student Ambassadors will work together with Seedly's Community Team and be challenged to use your enthusiasm, knowledge and skills to add value to the Seedly Personal Finance Community.
Contribute investment research and insights
Share personal finance tips and information
Attend and host events
Network with industry experts (eg. Robo-advisors, online brokerages, etc.)
Connect with other students
Promote your own personal and professional development
The good part about this program is that it is not a full-time role and you can contribute based on your own schedule and free time.
Requirements
Students in their second to the final year of their tertiary education at an officially recognised University
A keen passion for everything personal finance and investing
Creative, fun, resourceful and hard-working personality
Excellent communication skills
Good command of the English language
A certain level of knowledge of personal finance
Class of Seedly Student Ambassador 2020/21
Meet the official Seedly Student Ambassadors for the Class of 2020/21.
We look forward to you being part of the program next year! Recruitment starts every August.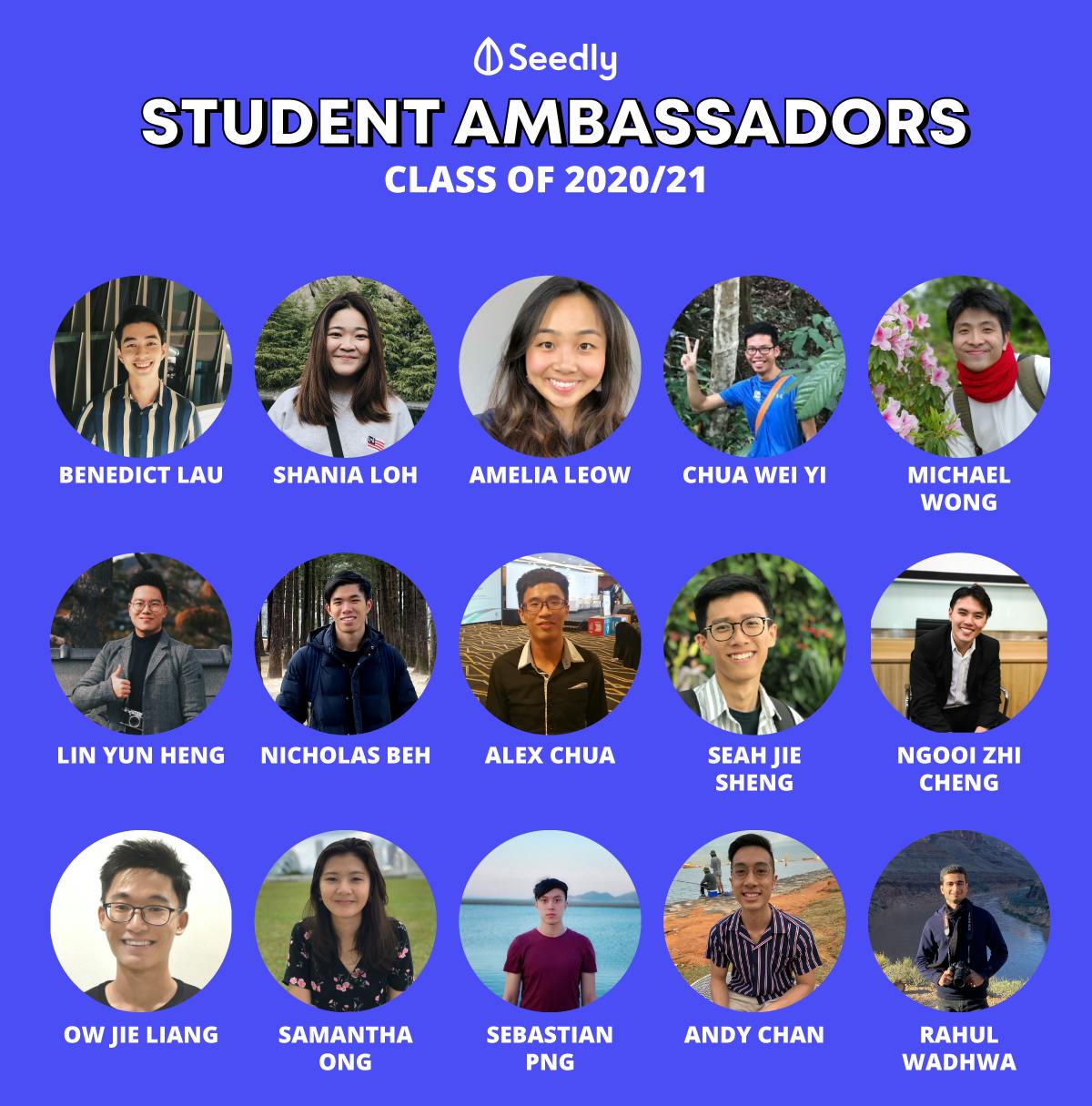 Get To Know Them!
National University of Singapore (NUS)
Seedly Opinions worth checking out:
Yun Heng a driven and passionate individual who is able to excel in areas which he puts his heart into.
Having an entrepreneurial mind, he takes on a variety of interest which sparks my intellectual curiosity. One of his key strengths is his ability to self learn without guidance. A self-starter, who is self-motivated and able to work with minimal supervision, Yun Heng is an interesting candidate with numerous hobbies across different disciplines. He is an expert in the creative field and actively engaged in Social Media Marketing as a freelance photographer of Instagram Page @yh.lens and ambassador of Olympus Singapore.
He also started a blog out of his passion for personal finance and investments, hoping to educate those around him to be financially literate.
National Technological University (NTU)
Seedly Opinions worth checking out:
Despite being a year 2 student studying civil engineering, Wei Yi has quite a bit of experience in finance.
After studying accounting in secondary school, he kicked started his personal finance journey out of interest. A fan of Warren Buffett, Wei Yi studied his investment techniques which involve scrutinizing Profit/Loss accounts and balance sheet. He also takes closer looks at companies which are doing financially well and eventually bought my first stock at 18.
Other than investing, he is also wildly interested in saving as much money as I can and learning from others about cheap hacks or bank accounts with the highest interest rates. He aims to eventually be financially independent by 35 and qualify for priority banking at 30. He feels that peers, his age are more knowledgeable about how to earn more money and are capable to do so. Wei Yi adopts a less extravagant lifestyle ie. eating Cai Png instead of mala, buy less Fila and more Bata. His aim is to help individuals see the value of saving and you can enjoy homemade coffee as much as Starbucks.
National Technological University (NTU)
Seedly Opinions worth checking out:
Benedict is a penultimate banking and finance student at NTU. He chose to specialize in finance due to his interest in the stock markets.
Along the way, he realized a sense of satisfaction and fulfilment being able to share his financial knowledge with his friends (from a non-finance background) in a relatable way to help them with their own financial situation. Since then, Benedict started reading up more on personal finance and wealth management apart from just the stock markets in hope of being able to help more people in the future and to a greater extent!
National Technological University (NTU)
Seedly Opinions worth checking out:
Zhi Cheng is a final year NTU Accountancy Student with a strong interest in Personal Finance!
In recent times, he has partnered up with 2 other Malaysian Personal Finance Content Creators in order to better cater to the Malaysian community. He realised that the resources there are sorely lacking, and a potential market to explore. Zhi Cheng started his personal finance journey posting comparisons on Multi-Currency cards (as I was heading for exchange) on Instagram, attended some of the exclusive Multi-Currency Card Meetups (Youtrip and Revolut) and slowly moved into short vlogs and carousels about Insurance and Career Self Help topics as well.
During his free time, he dabbles with short posts and attempted to write long-form articles on Linkedin and Facebook. Tiktok was also another social media he has been exploring. A recent Tik Tok Video of his went on to achieve 30,000 views. Personally, he compiled multiple notes on Personal Finance topics like the FIRE Movement as well as ETFs vs UTs comparison as well! These notes are now being sent to a small broadcast group about 72 recipients strong. Being a firm believer in portfolio asset allocation, he currently holds a small portfolio through Stashaway, Syfe, FSMone and a 101 ILP. Armed with a license to distribute Insurance products, and currently a Certificate in Financial Planning Competency, Zhi Cheng is really grateful to Seedly for being such a big influence on his personal finance journey and allowing him to attain Seedly Level 5 Genius
At times, you can also catch him dancing.
Singapore University of Technology and Design (SUTD)
Seedly Opinions worth checking out:
A sustainable analyst and an undergraduate pursuing Engineering System Design in SUTD. Alex Chua is interested in personal finance because he believes in creating more options for himself and create value for others. Money can be a boon or a bane. A change in mentality and habit is needed to live in financial freedom.
Furthermore, he is currently investing. He finds it interesting to learn more about the world and himself through investing. To him, investing is a journey of personal growth. He inspires to pursue the fintech space such as blockchain to create more opportunities to all and alleviate income inequality.
National University of Singapore (NUS)
Seedly Opinions worth checking out:
Andy committed his first investment mistake was when he signed up for an 8-year endowment plan where he had to pay premiums for the first 5 years. The returns were not great and he knew he would struggle to pay his premiums when he entered university. Having invested in a product that was relatively illiquid and had low returns, his plans on an overseas exchange was immediately thrown out of the window.
With that, he did not have a lot of capital to invest in other securities. The most he could do was to invest in a Regular Savings Plan. Determined to get better financially, he decided to spend the time accumulating financial knowledge instead, so that he can make a more informed decision in the future. He regularly read articles from websites like Seedly, DollarsAndSense, MoneySense, and several others. He also picked up books like "The Little Book of Common Sense Investing" by John Bogle and have attended several workshops organised by companies like SIAS and StashAway. The topics which he familiarised with include ETFs, Insurance, CPF and Housing.
Looking back, he felt quite intimidated when I started my personal finance journey. There were many complex terms that he was not familiar with and the dizzying array of resources did little to ease his anxiety. Fortunately, his journey started early, with financial commitments in life. This gave him time to equip himself with the knowledge he will eventually need. Personal finance may seem complex and daunting, but it does not have to be so. Andy wants to help people make prudent financial decisions however much he can.
Singapore Management University (SMU)
Seedly Opinions worth checking out:
Jie Sheng has been managing his own finances since 2016, when he started to pay for his own expenses and utilities without getting any allowance from my parents. He was able to afford to pay for his own daily expenses by having a small Carousell business selling electronics and saving by purchasing deals and promotions on various platforms. You can check it out (@sjiesheng).
Moreover, he has the habit of only purchasing what he needs and loves to maximize my savings. Being a Seedly Student Ambassador allows him to share with my peers and community the Personal Finance knowledge he had gathered over the years and also to learn and glean from other students and industry experts.
SIM- University of London
Seedly Opinions worth checking out:
Michael Wong is passionate about his own personal finances and would like to do my best to help others through his experiences.
The advice and comments he put on Seedly are as impartial as possible. He doesn't recommend or promote himself for personal gains. Michael looks forward to being part of the team where he can create exciting content for readers! While he may not be the most knowledgable person as it stands, but at the end of this experience, he hopes to become a pillar of a go-to guru!
National Technological University (NTU)
Seedly Opinions worth checking out:
Shania is a banking and finance student at NTU. Her hobbies included photography, watching movies and digital drawing. She has grown to have a big interest in personal finance and investments this year, especially since the circuit breaker started, where most of her friends and family are worried about their savings and financial plans.
The Circuit Breaker period made got her reflecting on her own savings and spending habits. This includes being more responsible for her own personal insurance plans, tracking of personal expenses, and have proper planning towards my future financial goals. After all, this is the best time to start! She turned to Seedly's articles and forums for some advice on personal finance and making informed decisions towards investments and planning for her future financial goals. After being on it for several months, she decides to be a part of the community and paying it forward by helping others with their finance queries. She feels that Seedly has been a safe space for everyone to learn from each other and gain different perspectives to topics beyond personal finance and investments. Gaining new knowledge in these areas have been a good conversation piece with her friends as they share about their own financial goals and their plans towards achieving them.
Being a part of Seedly's student ambassador program would be a good opportunity for her to take a step further, and help other young individuals who are struggling with their own personal finance, just like how she felt at the beginning of the year, where she was clueless and confused. Furthermore, this programme would be a good chance to be exposed to more aspects of personal finance and investments. She hopes to be given this opportunity to be a part of Seedly's Student Ambassador Programme, and she looks forward to having a chat with the Seedly team soon!
Singapore Management University (SMU)
Seedly Opinions worth checking out:
Samantha is a penultimate student at SMU majoring in Finance and Strategic Management. She has been managing her own finances ever since she started working part-time after her A levels. Aiming to achieve financial freedom by the end of her university journey, she started reading up on how to better manage her own finances and have even started investing. Being a prudent individual, she likes to explore the various choices and weigh their benefits and cons before deciding on one. That was how she chanced upon the Seedly community.
Within the community, she was able to get her questions answered and she too is able to share her experiences or knowledge in certain areas. This exchange of information is what she likes and enjoy the most. Apart from this, she also enjoys playing sports as a hobby. She used to play Netball up till JC and she really enjoys working in teams towards the same goal.
National University of Singapore (NUS)
Seedly Opinions worth checking out:
Amelia is a student studying at the National University of Singapore School of Computing the past year with a major in Business Analytics and a specialisation in financial analytics. Her interest in finance was piqued after working at Smartly last December, right before they shuttered operations in March.
Seeing first hand how fast-paced and relentless both the local and global finance scene is pushed her to do more research. She started taking personal finance seriously and did more research on available avenues for a student just starting out like herself. Over the past summer, She worked at a venture capital firm as an investment analyst and was exposed to the local private equity scene. She got the chance to talk to founders who started from nothing and built a viable business, which inspired her to start a blog on entrepreneurship and venture capital (www.amelialeow.com). She enjoys writing about and talking to people from diverse backgrounds.
National Technological University (NTU)
Seedly Opinions worth checking out:
Nicholas is a year 3 computer science student from NTU! Although not related to his field of study, personal finance is something that he has developed a strong interest in the past few years. It all started when his father tasked me to find better savings account for him, and that continued on into other areas such as credit cards, investments, insurance, taxes and property. Nicholas has a penchant for finding the best deal and am always on the lookout for better options! By becoming a Seedly student ambassador, he hopes to share his knowledge with more people and help other students increase their financial literacy.
National Technological University (NTU)
Seedly Opinions worth checking out:
Coming from a humble family background Jie Liang realised the importance of financial security and financial freedom. Growing up, Jie Liang's family got by the past ten to twenty years by being prudent with money. His parents saved whatever they could in hopes to put me through university. His parents, like many other parents in Singapore, have worked very hard in hopes of a better life for their children and themselves.
In hopes of providing more for the family, his father also tried his hands at investments a few years ago and was adversely affected during the financial crisis of 2008.
Possess a very strong belief in the need for financial literacy and awareness for people in Singapore across all ages. It has never been easier for the retail investor to invest money but a US study showed that the number of people who are invested in the market is still not as high due to the recent adverse memory of the global financial crisis. He hopes that as a Seedly Student Ambassador, he would be able to reach out to like-minded people and positively influence those who are looking to start on their journey to financial freedom but are unsure of what steps to take. He would also like to add diversity to the community as an engineering student who did not have any formal training or background in business or finance. Hoping to raise general awareness on the importance of personal finance, he believes in the long term potential of Seedly as a platform and as an excellent source of information that the community can refer to and "crowdsource" when they have their individual and unique set of circumstances.
National University of Singapore (NUS)
Seedly Opinions worth checking out:
Sebastian is a Year 2 Computer Science and Business Administration undergraduate at the National University of Singapore. He hopes to broaden my skillset and exposure to the finance/ tech industries in the short term. With a strong passion for personal development, he regularly attends talks and events to broaden his mind and gain more exposure to the industry. Some events that he has gone for are Investomania, National Achievers Congress and Innovfest Unbound. During his free time, he enjoys watching videos and reading books to grow his knowledge. Sebastian hopes that the student ambassador program can deepen my knowledge in personal finance and at the same time, inspiring others to embark on their own journeys into this field too.
Additionally, he hopes to connect with like-minded individuals and people who are more experienced.
National University of Singapore (NUS)
Seedly Opinions worth checking out:
Rahul is a Year 2 Student at NUS School of Computing.
He started his personal finance journey back in March 2019 with the STI and have ventured off since then. He hopes to learn from others in the community, and also do what he can to educate others along the way! While he does not have the most experience, Rahul makes up for it in his hard work and eagerness to learn.
SeedlyTV Student Ambassador 2020 Edition
The Seedly Student Ambassadors also shared their personal finance journey as students on various episodes of SeedlyTV Student Ambassador Edition.
Catch their episodes of SeedlyTV here:




Seedly Student Ambassador 2020/21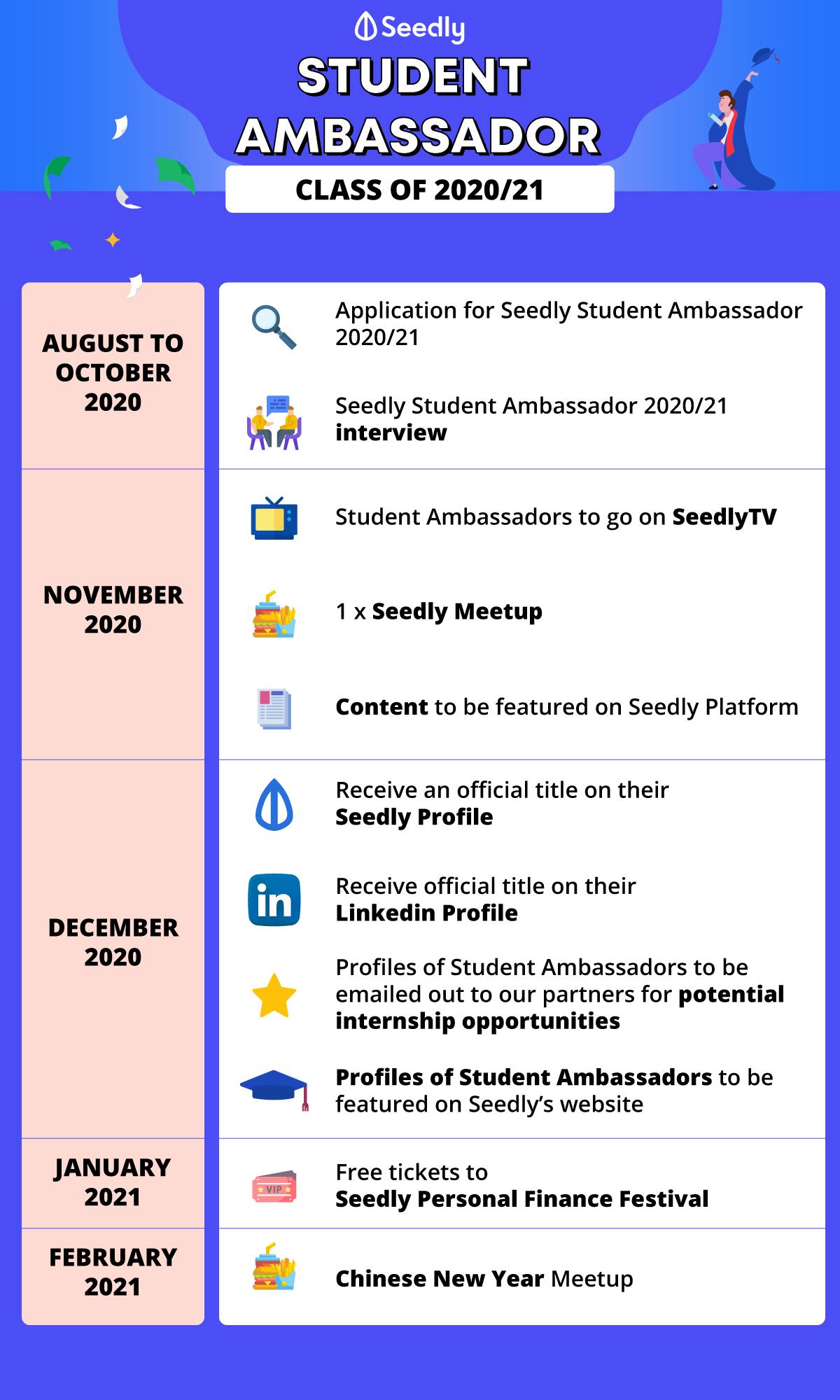 The Recruitment Process
To qualify for the program is easy!
Be a member of the Seedly Personal Finance Community. Sign up if you are not one yet.
Level up to at least a Genius level (125 points) in the community by September 2020.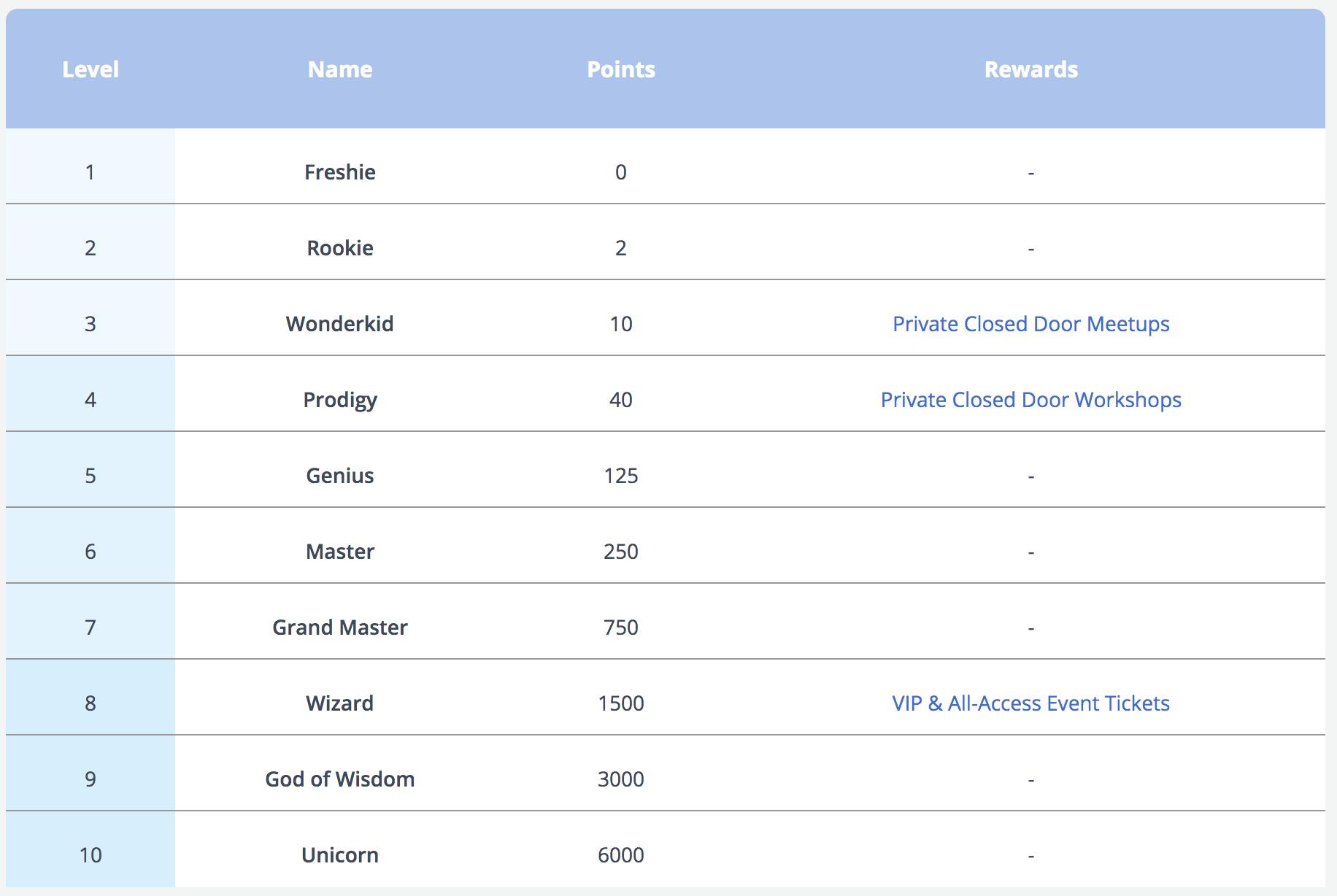 Earn points by contributing to the platform:
2 points for every upvote received on your answer
3 points for every answer contributed to the platform
4 points for every review contributed to the platform
3. Submit your application here
We look forward to having a chat with you soon!
Past Seedly Student Ambassadors and Where are They Now?
We first launched a similar program back in early 2019.
Here's where the past Seedly Student Ambassadors are at now: