Why Would I Want to Sign Up for a No Contract Broadband Plan in Singapore?
No contract broadband plans are suitable for users who value flexibility that is afforded to them. Users are able to cancel and sign up for a new broadband plan as and when they like without being charged a cancellation fee. Cases where this might be helpful is if a user is unsure of when they might have to move accommodations or if a user is simply just unsure of which fibre broadband plan suits their needs in terms of pricing and performance.
Choosing Best Broadband Plan: Factors to Consider
Internet usage needs
This factor takes into account how much speed and bandwidth you will need. A good gauge would be to factor in the number of household members in your home and their internet usage needs. For example, a tech-savvy household with multiple members who need to engage in bandwidth-intensive activity, such as gaming, big file downloads, and video streaming, will likely require higher speed and bandwidth.
Contract duration
Broadband plans are generally offered in contract periods of 12 or 24 months. Currently, MyRepublic is the only provider that offers a no contract plan at $59.99 for 1Gbps, although you will need to pay a $48.15 cancellation fee if you terminate within the first three months. 
Maximum speed
Broadband plans offer plans that come with 300Mbps, 500Mbps, 1Gbps, and 2Gbps speeds. 
Ongoing broadband promotions
Before you eventually sign the dotted line on the broadband contract, you should definitely look out for promotions available that help you reduce your costs even further. These promotions could come in the form of broadband credit card promotions, broadband bills waiver, free homeline call minutes, free installation and more. The broadband scene in Singapore is highly competitive and thus providers are always looking for an edge over the competition and sometimes these materialize in the form of promotions and discounts
Is 1GBps Enough in Singapore or is it Overkill
If you are observant, you would have noticed that IPS's 1Gbps broadband plans seem to be the most common broadband speed. However, did you know that most may not need 1Gbps broadband speed?
500Mbps VS 1Gbps: Do You Really Need a 1Gbps Broadband Plan? 
If you are observant, you would have noticed that IPS's 1Gbps broadband plans seem to be the most common broadband speed. However, did you know that most may not need 1Gbps broadband speed?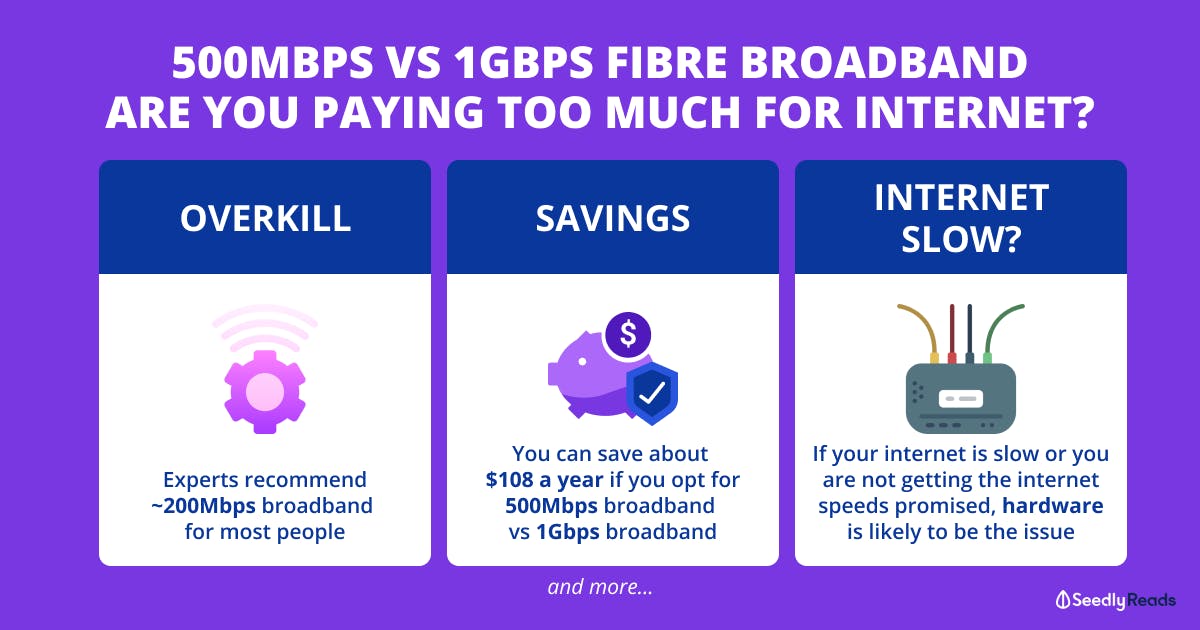 If reducing the cost of your bills is your priority, opting for a 500Mbps plan may be a good place to start. You may be surprised by how much you can save! 
Guide to Fibre Broadband in Singapore
Here are three guides to understanding fibre broadband and how to purchase the best plan for your needs: 
Frequently Asked Questions
Why do I need a fibre broadband plan?
Fibre broadband provides much faster and smoother internet speeds. This is especially ideal for those who work from home as they require uninterrupted and fast internet for smooth video conferencing or file transfers. Gamers will also benefit from faster internet speed due to the low ping/latency.
What should I prepare before signing up for a fibre broadband plan?
To ensure your home is ready to install a broadband plan, you must ensure that your area has the required fibre infrastructure and a Fibre Termination Point (TP) already installed on your premises. If your premises does not have the Netlink Trust Fibre TP, then your internet service provider will assist in arranging for the installation. Users have to also be aware that in most cases, the router does not come free and it will have to be paid for unlike for the 12 months or 24 months plan where the router is complimentary.
Do I have to switch my Wifi Router to use fibre broadband plans?
No, you can use your existing WiFi Router; however, to get the most out of the speed a fibre broadband connection offers, you might need to switch to a router with higher performance.
Are there any data limits for fibre broadband plans?
Fibre broadband plans in Singapore are typically unlimited.
Can I have multiple fibre broadband plans?
Yes, it is possible to have multiple broadband plans. This can be done because the NetLink Trust Termination Point typically has 2 ports allowing 2 separate fibre broadband services to run simultaneously.
Is 500 Mbps enough in Singapore?
Based on typical household internet usage behaviour, which mostly involves the use of broadband for video streaming, internet surfing, smart home devices and gaming, 500Mbs might be too much. 200Mbps should satisfy the typical household internet usage needs.
What should I look for in a Wi-Fi plan?
There are several factors that you need to consider when choosing a fibre broadband plan. These include your household internet usage habits, the network speed you want to achieve, and the subscription cost. All these are to ensure that you maximize the amount you pay every month and don't end up paying more for something you don't need or something that is not up to your performance standards.
What is the fastest internet speed in Singapore?
Singapore's fastest internet speed has been clocked at 783.63 Mbps and 818.31 for the median top download and upload speed.
What's the difference between fibre and broadband?
The main difference between a fibre and a broadband connection is that for a fibre connection, the fibre pipeline belongs solely to your household and is not shared with anyone else, while a broadband connection uses shared infrastructure to transmit data.
Disclaimer: Products with a "Visit Site" button pay to access additional features
Licensed by Infocomm Media Development Authority (IMDA)