Disclaimer: Products with a "Visit Site" button pay to access additional features

Seedly's Product Comparison Page Listing Guidelines
For Travel Insurance Insurance products to be listed on Seedly's Product Comparison Page, they have to fulfil the following criteria:
Policies protected under the Policy Owners' Protection (PPF) Scheme which is administered by the Singapore Deposit Insurance Corporation (SDIC)
Coverage for unforeseen circumstances while travelling abroad
What Is Travel Insurance?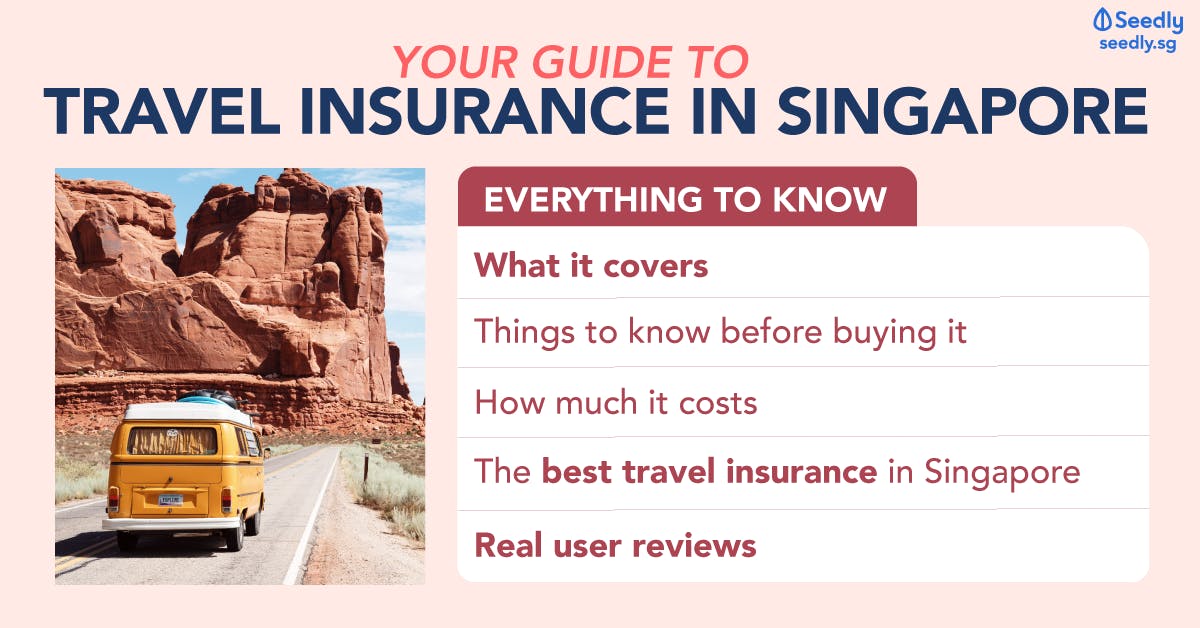 Travel insurance refers to a purchased plan that covers unforeseen circumstances while travelling abroad.
These include flight delays or trip cancellations, road or flight accidents, stolen or missing baggage, overseas medical emergencies, and any other losses incurred during the length of your trip.
Remember: getting the cheapest travel insurance doesn't always mean you've scored a good deal. Read travel cover reviews in order to make a fair comparison, then consider your options from there.
What Does Travel Insurance Cover?
It covers your safety, at its very core. Which also means you'd be reimbursed under unforeseen circumstances, so long as you meet certain prerequisites.
A basic plan should suffice, and allow you to claim for:
Delayed or lost baggage
Trip cancellation(s)
Flight delays and cancellations
Missed flight connections
Overseas medical treatment and expenses (ideally at least $200,000 in coverage)
Emergency medical evacuation (ideally unlimited coverage)
Credit card fraud
Reimbursements, in the event of your travel agency going bust
Loss of passport, travel documents or theft of money
Coverage Types
Coverage options include those for individuals, couples, groups and families.
Pertinent to mention are the benefits of getting family coverage:
Possible coverage of up to $10,000 for flying a loved one to your side in the event of hospitalisation
Possible coverage of up to $10,000 for flying a loved one to repatriate your remains in the event of death
Cheaper and more convenient than applying for multiple individual travel policies for all family members
Travel policies can be offered in single trips or annual multi-trip plans. If you're a frequent traveller, the option of purchasing an annual plan might be more economical than purchasing a single trip travel insurance every time you fly.
We've concisely summarised everything to look out for before buying travel insurance here, and why you shouldn't simply settle for the cheapest option.
What To Know Before Getting Travel Insurance
On that, here are some regularly overlooked factors when purchasing travel insurance.
The Claims Process
Getting travel insurance online is a quick process, but you should also take note of how to make a claim, and the exact parameters of your coverage. These terms should be stated plainly on an insurance provider's website, whether upfront or in the fine print.
For instance, can a claim be made online - or would you be required to fill out lengthy paperwork prior? It's also always a good idea to note the closest panel clinics in the area in which you'll be living.
Know Your Needs
While it seems obvious, picking the right travel insurance policy is highly subjective - so identify what you value most.
If you're planning a road trip with your spouse and children, you'd likely opt for for family cover - and might consider purchasing car insurance, in addition to a standard travel insurance plan. That's because rental vehicle excess fees are typically capped at a lower amount with the latter.
Most travel policies offer similar coverage, but the difference lies in the compensation offered per category - whether personal accident expenses, flight delays or loss of belongings, for example.
A typical travel insurance plan may also only cover individuals up to the age of 70.
How Much Does Travel Insurance Cost?
Your travel insurance premium depends on the number of days spent abroad, and the areas you intend to visit.
It could start from as little as $18 for several days' coverage to ASEAN countries - which include Singapore, Malaysia, Indonesia, Philippines, Thailand, Vietnam, Brunei, Laos, Myanmar and Cambodia.
Most insurance providers typically offer more 'premium' options, too, with coverage of up to $1,000,000 for overseas medical emergencies.
Travel Insurance Providers in Singapore
You'll find a host of travel insurance providers for your picking - plus real user reviews from Seedly readers. These include:
Once you've settled on an insurance provider - or at least narrowed your choices - check that you aren't paying more than necessary.
If you're planning a holiday to Malaysia and Indonesia, you might want to purchase travel insurance for ASEAN countries, as opposed to all of Asia (which would typically include places like Australia and New Zealand.)
The Best Travel Insurance Options In Singapore 2021
Here's a quick look at the best travel insurance plans in Singapore for your next holiday, and the maximum sum assured per provider.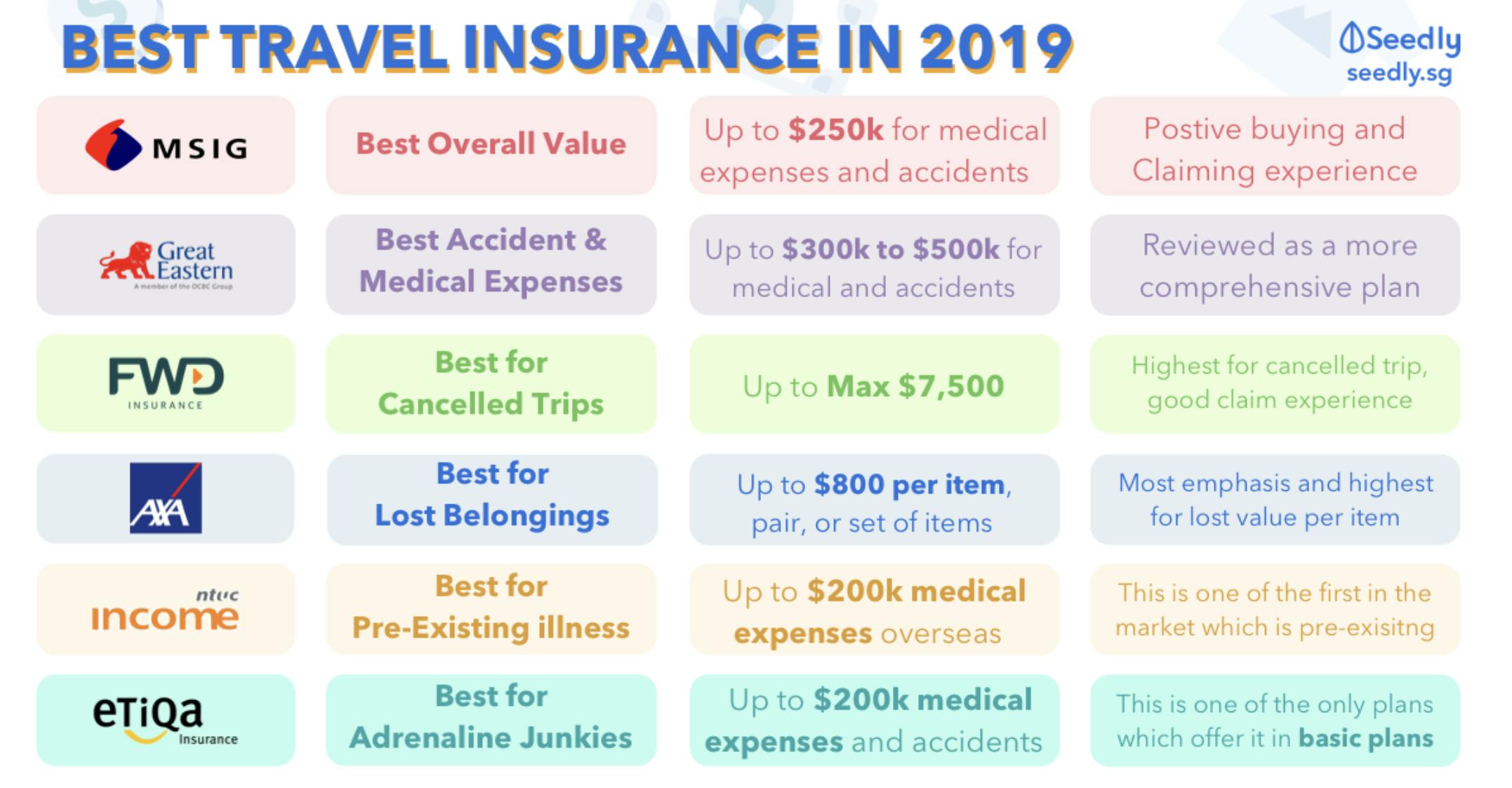 Up to $250k for medical expenses and accidents
Up to $800 per item, pair or set of items
Best for Pre-existing condition: NTUC Income
Up to $200K medical expenses overseas
Up to $250K medical expenses overseas

Tools To Help You Choose The Best Travel Insurance
Need help figuring out which insurance company to go to for the best travel insurance? We've compiled a guide (slash cheatsheet) to the best insurance options in Singapore here.
If you've still got burning questions after reading real user reviews on the best travel insurance options in Singapore, head on over to the Seedly Q&A platform! You'll be able to pose your questions anonymously, too.
COVID-19 Coronavirus Travel Insurance Coverage:
Does your travel insurance cover the Covid-19 coronavirus? They depend on the dates your trip and policies were made, as well as policy terms and conditions.
Here are some cut off important coverage cut-off dates to look out for: