New to investing - or simply looking to find out more about online brokerages?
This guide takes you through everything to know, from opening a Central Depository (CDP) account to the differences between leveraged trading and investing.
Once you've soaked it all in, peruse real user reviews from the Seedly community to find out the pros and cons of each online broker.
What Is An Online Brokerage?
An online brokerage is an online trading platform, that helps an investor (i.e. you) trade various asset classes and financial instruments. These include indices, commodities, stocks and forex, to name several. Trying your hand at trading has never easier as online brokers make trading increasingly accessible.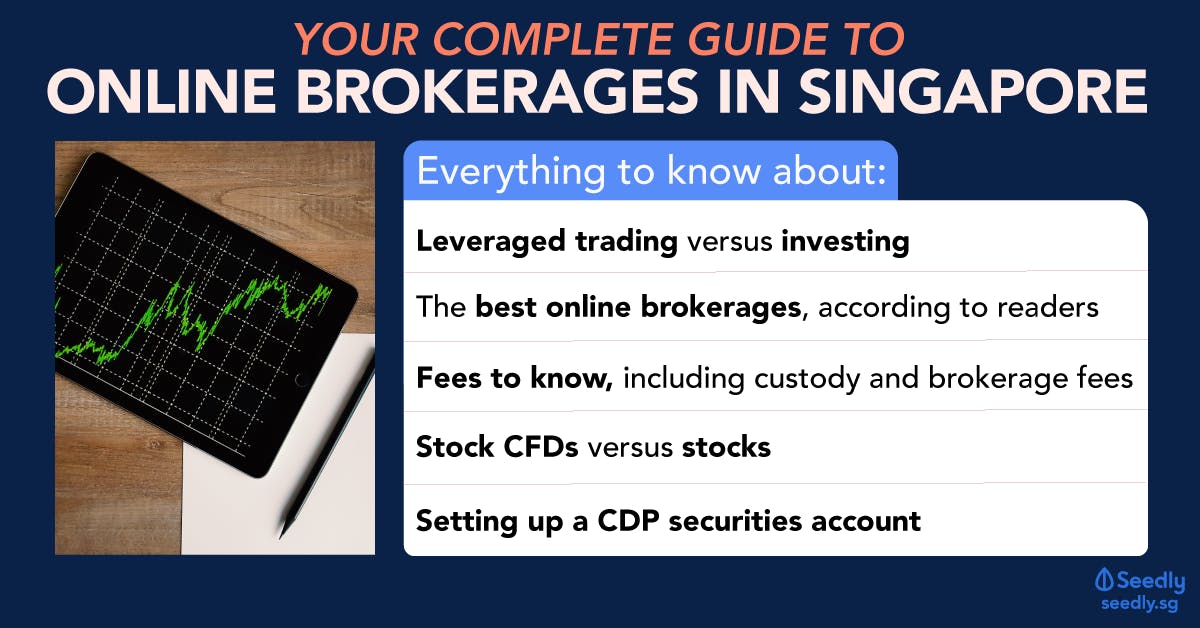 Both buying and selling stocks incur small fees per transaction made. Of course, these fees are determined by individual brokerage firms.
To facilitate your trades, you'll first need a CDP account and/or custodian account.*
While a CDP account allows you to you hold all purchased stocks under your name, a custodian account means your purchased stocks are held by the respective investment firms. These accounts also work on a prepaid basis - so you won't be able to use more than the amount you've placed in your account.
We've fleshed out the pros and cons of both account types in greater detail here.

*If you're looking to trade just stock CFDs, though, neither a CDP account nor custodian account is required.
Online Brokerages in Singapore
Trading with an online brokerage also offers you two trading options: leveraged trading, and investing.
But before getting to that, here's a round-up of some of the best online brokerages in Singapore:
Leveraged Trading vs Investing: What's the Difference?
If you're new to the world of online brokerages, it's imperative to understand the differences between leveraged trading and investing.
With investing, you're granted part-ownership of a company and will receive dividends on shares and exchange-traded funds (ETFs).
Conversely, leveraged trading - also known as Contracts for Difference (CFD) trading - allows you to trade outside of stock exchange opening hours. You'll also be able to trade a wider variety of products spanning shares, indices, commodities and forex. Your risk of gaining or losing profits is therefore amplified - meaning your capital could go either way.
Stock CFDs vs Stocks: What's the Difference?
As mentioned, investing allows you part-ownership of a company.
Stock CFDs mean you don't own a stock or asset. Instead, you're putting in a sum of money to speculate a product's price movements. Because you're only required to put in fraction of money of the overall trade value, what then happens is your profits could far exceed your deposit - or work in the reverse.
CFD products include forex, shares, indices, commodities and cryptocurrencies - all of which are explained further in the next section.
What Types of Products Are Offered By Online Brokerages?
There are two product classes under which products fall: asset classes, and financial instruments. Asset classes refer to things that can be traded or invested in, while financial instruments are the ways in which stocks or bonds are traded across various asset classes.
Asset Classes
Forex (FX)
Forex trading refers to the market in which currencies are traded. They're also always traded in pairs, and behave similarly to the buy/sell system at money changers. Buying EUR/USD, for example, essentially means receiving EUR in exchange for USD. Should the EUR strengthen against the USD, you'll make a profit - or loss, if the reverse happens.

Commodities
What makes this asset class unique is that you're trading in natural or grown commodities. Examples include gold, energy, oil and agriculture, all of which are affected by fluctuations in the economy - or even weather developments.

Equities
Equities - also known as stocks or shares - give you part-ownership in a company. When you invest in equities, you're offered dividends (or payouts) based on the company's earnings. In a sense, it offers less stability than bonds, since you aren't guaranteed returns.

Bonds
Unlike equities, bonds don't give you part-ownership of a company. Instead, you're 'lending' a company money - in exchange for the promise of returns within a certain timeframe. You'll also be guaranteed a fixed interest rate as indicated at the time of the bond's issuance.

Exchange-Traded Funds (ETFs)
What happens when you can't decide which companies to invest in? That's where ETFs come in: you're offered access to a range of companies. ETFs are traded on the stock exchange. In Singapore, two popular ETFs include the SPDR STI ETF (SGX: ES3) and Nikko AM STI ETF (SGX: G3B).

Indexes/Indices
Indices are a measure of changes in the securities market. The securities market, then, refers to stocks or bonds. You'd likely know of the Straits Times Index (STI), which lists the top 30 companies in Singapore. You'll typically be able to learn more about STI stocks through ETFs and CFDs.
Financial Instruments
Contracts for Difference (CFDs)
A Contract for Difference (CFD) refers to an agreement between you and a brokerage - one in which you receive the difference in an asset's value between the time it was purchased and closed. CFDs include asset classes such as shares, commodities, indices and forex, as mentioned above.

Futures
As its name suggests, futures are contracts in which you buy a specified amount of asset classes - think indices, commodities, forex and equities - at a set time and price in the future.

Mutual Funds
Mutual funds refer to funds that are collected from a pool of investors to purchase securities across asset classes. This diversification means mutual funds are generally viewed as safer investments.
How to Create an Online Brokerage Account
So, you're all ready to begin investing - but before that, you'll need to:
Open a CDP Securities Account* (find out how to set yours up below!)
Be at least 18 years old
Unfortunately, you won't be eligible if you're an undischarged bankrupt (duh).
*As mentioned, you won't require a CDP account if you intend to trade just CFDs. You'll instead be required to set up an individual account for each online brokerage that you choose to trade CFDs with.
How to Set Up A CDP Securities Account
A CDP account is run by the Singapore Exchange (SGX), and functions as a centralised point from which all your stocks can be controlled and viewed. It's open to both Singaporeans and foreigners, although only locals can apply through the online form.
Essentially, your CDP ensures that any shares - whether stocks or bonds - purchased in the open market are kept safe.
There are three ways to open your CDP account:
Through a brokerage firm,
Online or via mail, or
In person at the SGX CDP Customer Service counter
We'd highly recommend applying online, though; it's a fuss-free, 15-minute process.
For this, you'll need to:
Ensure you have a local bank account. These include Citibank, DBS/POSB, HSBC, OCBC, UOB, Maybank and Standard Chartered Bank
Fill out this form, or sign up using MyInfo. The latter option's only available for Singaporeans and PRs.
Prepare your supporting documents. These include your identification card; a recent e-statement from a local bank, CPF or IRAS; a scanned copy of your signature, and your Tax Identification Number (TIN).
It takes around ten business days for an application to be processed. From there, you'll be able to use your CDP account to purchase and sell stocks, as well as vote or attend Annual General Meetings (AGMs).
Fees to Know
While opening a CDP account is free of charge, you may incur administrative fees and trading fees. These include:
Brokerage fees: For every transaction made (i.e. for every stock that is bought or sold), the brokerage charges a minimum fee, and a trading fee based on the size of your transaction. For instance, SAXO Markets charges a minimum fee of US$4, and a trading fee of 0.06% per transaction.
Clearing and trading fees: Completing a transaction using your CDP account means additional, albeit minute, fees. Clearing fees are chargeable at 0.0325% of your purchase; meantime, trading fees incur a 0.0075% charge.
Custodial fees: This refers to fee collected from brokerages that are holding your stock. It only applies to purchases made through your custodian account, and varies per brokerage. In some instances, the online brokerage might not charge a custodian fee for certain products - as in the case of stock and ETF holdings on FSMOne.
Others: If you're trading in the US market, selling your shares incurs something called a Securities and Exchange Commission (SEC) fee.
How To Choose The Best Online Brokerage Firm
These are some factors to consider prior to choosing an online brokerage.
How much do you intend to invest? Because of the minimum fees imposed per transaction, you might want to consider investing a slightly larger sum to get your money's worth. Trading fees typically go down the more you invest - as in the case of DBS Vickers, which charges 0.28% on a contract amount between $50,000 to <$100,000. This trading fee goes down to 0.18% for a purchase of $100,000 or more.
Do you understand your trades? Stocks, forex, indices, commodities, exchange-traded funds: do you know what purpose each serves, and how they work? You should also note time differences if you're trading in international stock markets. That's especially if you intend to track fluctuating price movements in real time.
What will give you maximum returns? We know: there isn't an answer to this, but that's the beauty of playing the stakes. Instead, we recommend choosing a company with the lowest brokerage and trading commission fees.
If you've still got more to ask after reading these real user reviews on the best online brokerage firms in Singapore, head on over to the Seedly Q&A platform! You'll be able to pose your questions anonymously, too.
Otherwise, these guides might serve you well: