Compare the Best Integrated Shield Health Insurance in Singapore
There are a total of 7 Integrated Shield Plan type of Health Insurance in Singapore, they are (in no particular order):
Choosing the best health insurance is not as simple as it looks. Prices differ in age, and coverages differ from provider to provider. More importantly, at the end of the day, how much out-of-pocket expenses do we have to fork out when accidents happen? So before diving headfirst into the world of Integrated Shield Plans Health Insurance, here's what you need to know.

What You Need To Know About Health Insurance in Singapore
Singaporeans and PRs are covered by a basic health insurance called the MediShield Life. MediShield Life is a basic health insurance plan that is administered by the Central provident Fund (CPF) Board to help Singaporeans offset some of the hospitalisation costs and certain treatments such as chemotherapy for cancer and dialysis.
That being said, Singaporeans can receive further coverage by getting an Integrated Shield Plan (IP), which adds on the coverage for MediShield Life. Integrated Shield Plan can help one receive better class hospital wards or even, private hospitals treatment.
From 1 April 2019, all the Integrated Shield Plan (IPs) sold will be a co-paying one where one would have to pay at least 5% of his bill while the insurer pays the rest. This is unlike the full rider that was offered in the past, with insurer footing 100% of the medical bill.
What is an Integrated Shield Plan (IP)?
An Integrated Shield plan (IP)  is an optional health insurance plan, collaboratively insured by the CPF board and the private insurer of your choice. It provides additional coverage on top of your basic MediShield Life.
MediShield Life is a basic national health insurance plan that all Singaporeans and PR have.
IP is a great product of Singapore's two-tier healthcare system where governmental regulations and private insurance companies play their parts collectively to provide affordable universal coverage for its residents.
How does the Integrated Shield Plan (IP) work?
An integrated shield plan consists of 2 components:
1. MediShield Life
2. Additional private insurance coverage component by a private insurer of your choice
Together, your IP helps cover the costs incurred for hospitalization and surgical procedures.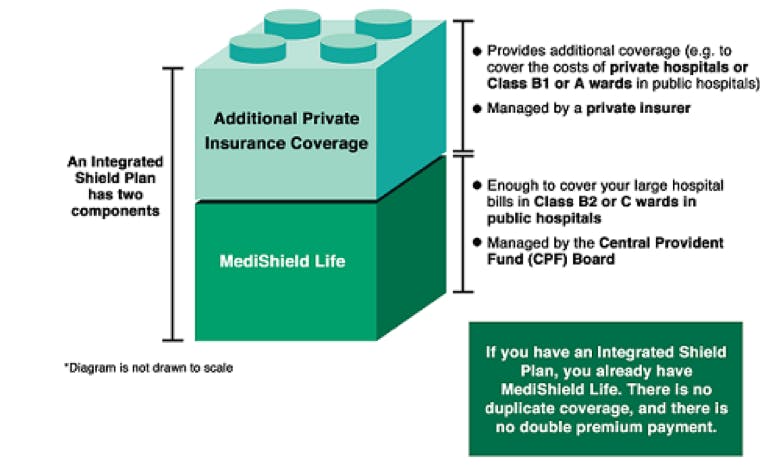 Source: Ministry of Health Singapore
MediShield Life
MediShield Life is a basic public health insurance scheme for Singapore residents', providing the first level of basic health care coverage.
Every citizen and permanent resident, across all ages and health profile, is automatically covered under MediShield Life, with no application required. Managed by the CPF Board, the premium for MediShield Life will be paid by your MediSave.
Additionally, lower-income families and Pioneer Generation individuals are eligible for government subsidies to their MediShield Life Premium.
What does MediShield Life Cover?
up to S$100,000 in policy limit
B2/C-type wards in public hospitals only
Selected Inpatient Treatment i.e. Day Surgery, Radio Surgery
Selected Outpatient Treatments i.e. Chemotherapy, Radiotherapy, Kidney Dialysis and Long-Term Parenternal Nutrition with limits for each different treatment
Staying in a A/B1-type ward or in a private hospital will be pro-rated. Meaning, your MediShield Life payout will only cover only a small proportion of the bill. The rest needs to be topped up either by cash or your MediSave account.
The full list of MediShield Life Coverage and its benefit parameters (Source: Ministry of Health Singapore):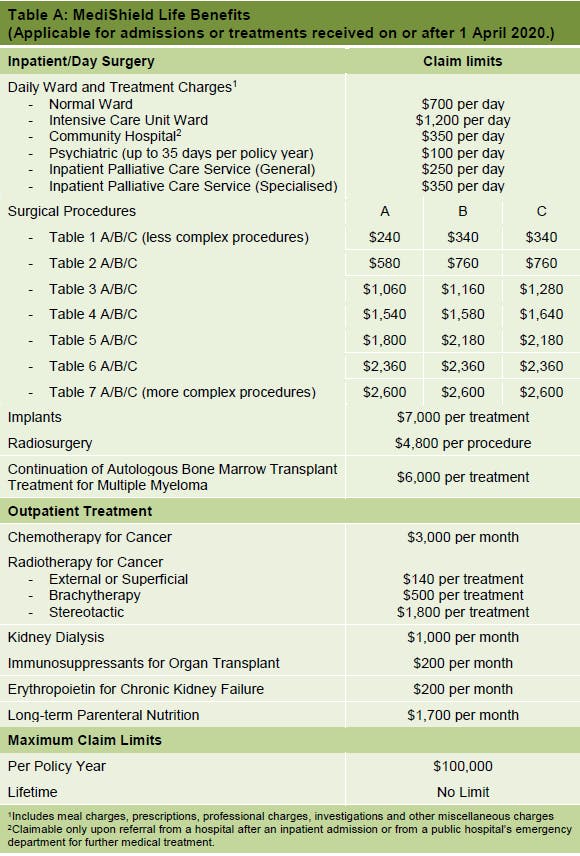 What does the Integrated Shield Plan (IP) cover?
There are 4 tiers of Integrated Shield Plans:
Standard Integrated Shield Plan
Class B1 Plans
Class A Plans
Private Hospital Plans
Standard Integrated Shield Plans (IP)
The most basic tier of is a private insurance product, targeted at covering large hospital bills and selected costly outpatient treatments. These are the full benefits and coverage parameters for all Standard IPs: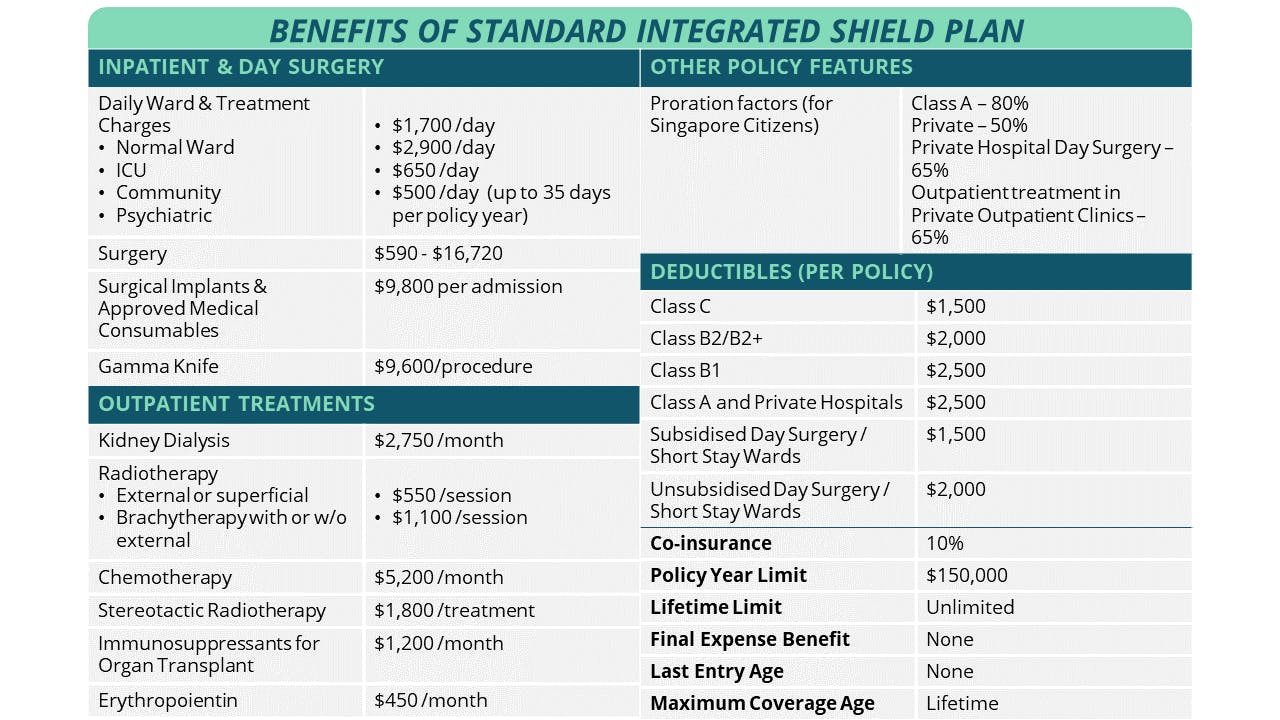 Standard IP costs more but also covers more than MediShield Life. It covers up to Class B1 wards of public hospitals, and have a policy limit of $150,000.
The coverage of the Standard IP is regulated by the government and is identical across all insurers. While the benefits for Standard IP are the same, private insurers are free to price their Standard plans as they prefer.
Cheapest Standard Integrated Shield Plans in Singapore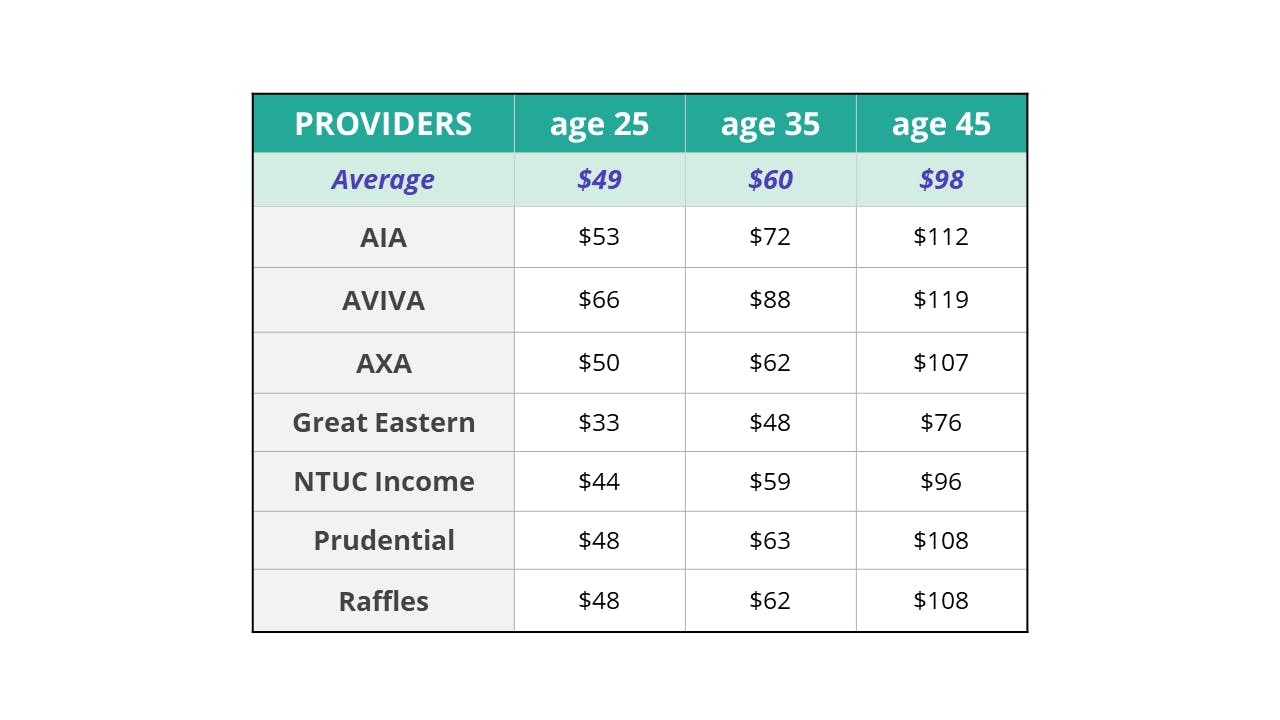 Across 7 plans, and within 3 age groups, we have whittled down which are the Cheapest Standard Shield Plans.