Disclaimer: Products with a "Visit Site" button pay to access additional features

Seedly's Product Comparison Page Listing Guidelines
For Savings Accounts products to be listed on Seedly's Product Comparison Page, they have to fulfil the following criteria:
Attainable interest rate at least 0.3%%
Provides high liquidity (able to withdrawal and deposit anytime)
What Is A Savings Account?
A savings account is an interest-bearing deposit account with the flexibility of withdrawing money. You can deposit your money at a bank or financial institution while they provide principal security and interest rates in return. 
How Do Savings Accounts Work?
Savings accounts provide depositors with interests because these respective financial institutions that hold your funds, are utilising them for things like investments or loans. Hence, you reap rewards, in the form of bonus interest, from funding your account.
There are mainly 2 ways which Savings Accounts can earn you Interest Rates:
"Stash-and-park": Gives you high-interest rates when you increase your account balance, whether by salary crediting or other depositing methods, while keeping withdrawals to a minimum.
Spend and save: Gives you bonus interest rates when you credit your salary and spend from the same account. Engaging in certain categories of transactions like bill payment, investments or insurance will give you extra bonus interest rates.
Best Zero Effort, Fuss Free Savings Account With the Highest Interest Rates in Singapore 2021
Don't wanna jump through multiple hoops like crediting your salary, spending a minimum amount on credit cards, and having to buy insurance or investment products?
Check out these zero effort, fuss free savings account where all you need to do is leave your money there and continue adding more to your monthly account balance in order to earn more interest!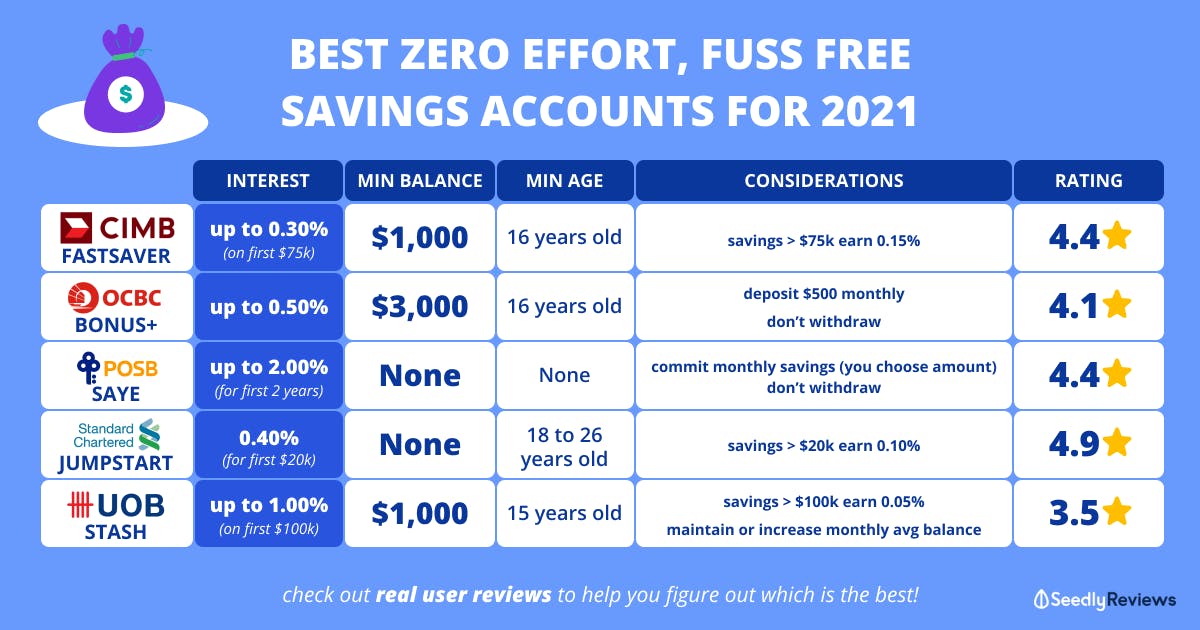 At a glance, your options are:
Best Savings Account With the Highest Interest Rates in Singapore 2021
The best savings account depends largely on you meeting certain criteria set by the banks. Fulfilling these criteria will offer you tiers of interest rates for your account balances.
These variables can be mainly broken down into:
Basics
Bank account balance
Minimum average daily or monthly balance
Amount of monthly salary credit into the savings account
Monthly credit card spend
Bills Spending
Monthly bill amount
Number of bills per month
Investments
Annual lump sum with the bank
Monthly investment with the bank
Loans
Monthly installment of certain loans specified by the bank, usually home loans.
Insurance
Annual insurance spend with the bank
Overview of the Best Savings Account in Singapore with the Highest Interest Rates 2021