Disclaimer: Products with a "Visit Site" button pay to access additional features

Seedly's Product Comparison Page Listing Guidelines
For Personal Loans products to be listed on Seedly's Product Comparison Page, they have to fulfil the following criteria:
Monetary Authority Singapore (MAS) Licensed Bank
Owns a Capital Markets Service License
What Are the Best Personal Loans in Singapore for The Year 2021?
A personal loan is a sum of borrowed money from any financial institutions that the borrower gradually repays through monthly instalments. Most personal loans are "unsecured"- meaning they are not backed by collateral. A secured loan is backed by an asset you own that can be forfeited if the loan defaults. 
Note that interest rates of personal loans, like many other bank products, are subjected to change.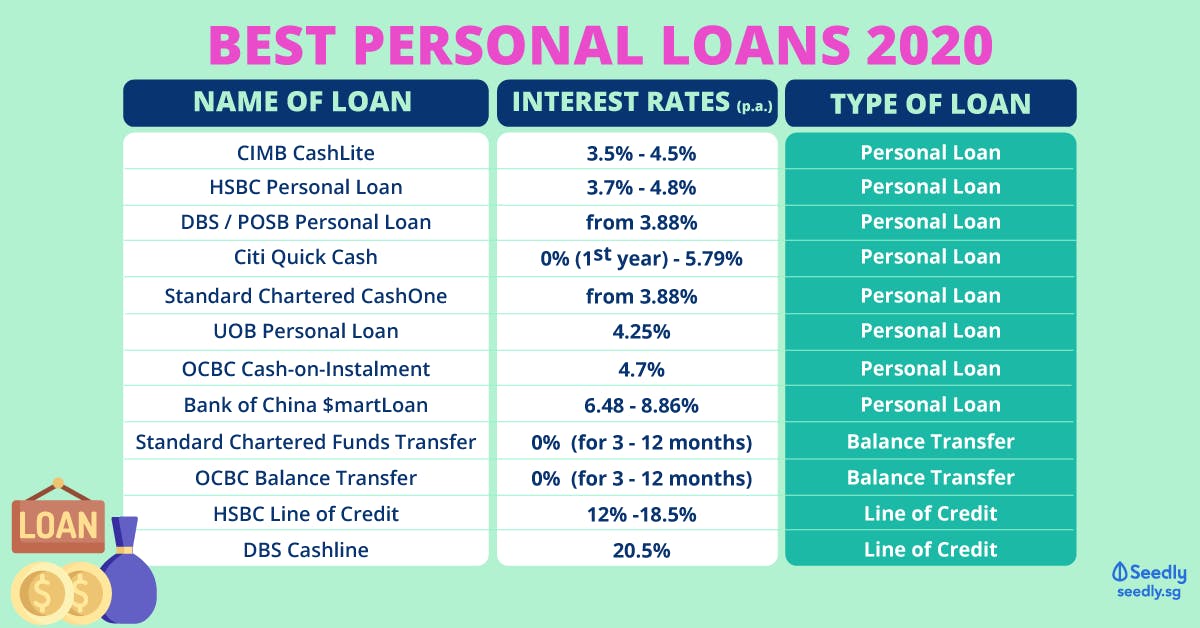 What Are Personal Loans Used For?
You can usually use the money for any reason. Personal loans have both short-term and long-term options that you can choose from. So from a hefty house renovation down payment to yearly tuition costs or emergency medical expenses, there's something for your needs. 
How Does Personal Loan work?
Of course, borrowing money comes at a price. The sum of money you received has to be repaid over a fixed period of time. These instalments are also subjected to interest rates and processing fees. Unsecured personal loans tend to charge higher interest rates than secured ones. Hence it is important to look out for all interest rates and fees.
There are a few types of personal loans available in the market, namely personal instalment loans, balance transfers and line of credit.
1. Personal Instalment loan
Personal instalment loans are the most common. They are suitable for a larger sum, long-term borrowing needs. Their repayment periods range from a minimum of 1 year to about 5 years but some banks offer up to 7 years. Advertised interest rates for personal loans are usually less than 9%.  Banks also have a minimum annual income requirement, starting from S$20,000, for borrowers to be eligible to apply for a personal loan.
Best Personal Loans with The Lowest Interest Rates
Here are some recommended loans with the lowest interest rates
Best Short-term Personal Loans
Here are some recommended loans for individuals who only need loans for a relatively short duration of fewer than 2 years
Best Long-term Personal Loans
Here are some recommended loans for individuals who require a longer duration of 5 years or more
Best Personal Loans for Low-Income Borrowers
Here are some accessible loans with lower-income requirements:
Best Personal Loan for Foreigners
Here are some recommended loans for non-citizens.
2. Balance Transfer / Funds Transfer
Balance Transfer (or Funds Transfer) allows for the outstanding amount in one account to be transferred to another account with a lower interest rate. In a Balance Transfer scheme, borrowers usually get to enjoy the lowest interest rates possible, at 0%. Interest-free periods for Balance Transfer schemes are only available for 3, 6 or 12 months depending on the bank. Once the duration is over, if your loan has not been completely repaid, you will be charged high prevailing interest rates that can go as high as 26%p.a.
Best Balance Transfer With Low-Interest Rates:
3. Line of Credit
Credit lines allow you to conveniently access cash within your credit limit for emergencies. Upon approval of your credit line, you can withdraw loaned cash on a revolving basis from your credit card or given ATM card. It is a pay-as-you-use type of short term personal loan scheme. Do remember that users have to pay the loaned cash in monthly instalments on top of the monthly payment for their specific cards. This easy accessibility to extra cash comes at a high price as interest rates for lines of credits are typically much higher than that of regular personal loans.
Best Line of Credit With Lowest Interest Rates:
Best Line of Credit for Lower-Income Borrowers:
Overview of the Best Personal Loans in 2021