Sompo TravelJoy

Sompo Insurance Singapore Pte Ltd offers a myriad of insurance options - and each covers the basics such as emergency medical evacuations or travel delays. If you are new to Travel Insurance you can learn more from the Best Travel Insurance Guide In Singapore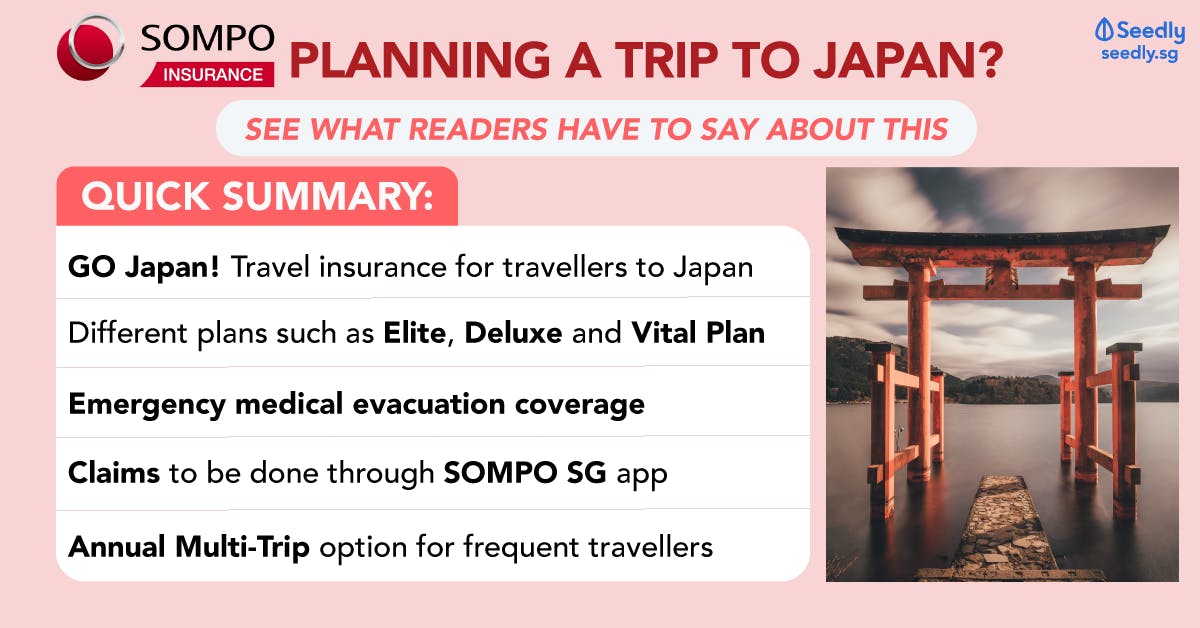 What makes the Sompo Travel Insurance Plan interesting is the trip disruption coverage, which includes up to $100 for an unutilised paid event ticket (e.g. Disneyland tickets) and GO Japan!, both of which are specially tailored for travellers to japan.
You'll find plans for everyone, including:
Individuals: For one pax
Family Plan: For one or two adults with any number of dependent children
Group Discount: For groups of 11 or more
Annual Multi-Trip: Multiple trips in a year
What Are Some Benefits of Sompo TravelJoy?
Click here for a list of what you should look out for when buying travel insurance. Here's an overview of what coverage Sompo TravelJoy provides.
Emergency medical evacuation inclusive of pregnancy-related complications and some pre-existing medical conditions
Travel baggage delay claim
Personal accident coverage for adults 70 years and below
Theft of luggage and personal belongings
Overseas medical expenses claim
Trip cancellation claim
Leisure amateur sports cover
GO Japan! - Free translation service over phone as well as coverage for cashless services at 740 clinics and hospitals
Plan Tiers
Sompo travel insurance plan provides 4 different tiers of insurance coverage - Elite Plan, GO Japan!, Deluxe Plan and Vital Plan.
Here is a summary table on the benefits of each table at a glance! Find out what other Travel Insurance are out there for you!