How Does Singtel Dash PET Work?
Dash PET is a single premium, insurance savings plan that offers savings at high returns, with capital guaranteed and full flexibility of funds.
Dash PET life insureds are also covered for life protection, paying out 105% of your account balance for death benefit, and COVID-19 Financial Assistance Relief via eTiqa.
The policy is underwritten by Etiqa Insurance.
How to Earn the Highest Rate of Returns for Singtel Dash PET
How do you earn the highest rate of returns for Dash EasyEarn?
Dash EasyEarn's rate of returns is really straight-forward. The returns per annum for Dash EasyEarn is 1.3% p.a. for account balances of up to S$10,000 for the first policy year. This 1.30% is non-guaranteed.
To earn more returns, simply top-up more into your account to earn from the 1.3% p.a. via your bank account. The total account is calculated by adding the accumulated rate of returns and any top-ups. While it might be a single premium policy, you can still top-up your account to increase the average daily balance for higher returns.  
If your account balance surpasses S$10,000, you will earn 0.30% instead, is also non-guaranteed.
Dash PET users can boost their returns from 1.3% p.a. to 1.5% p.a. for the first S$10,000 savings by simply opting in for FREE insurance coverage. This free add-on provides coverage of up to $50,000 and an additional 0.2% p.a. interest on the first $10,000 in your Dash PET account.
Insurance Coverage by Singtel Dash PET
As a universal life plan, Singtel Dash PET covers you for 105% of your account balance upon death, and the minimum one-time premium is S$50.
If you'd like to be covered for more, simply top-up your Dash account.
A larger account balance also means you'll be earning more.
Benefits and Features of Singtel Dash PET
In this low interest rate environment, Singtel Fash PET has a relatively high interest rate compared to other Bank Savings Accounts but it is not the highest rate of return enjoyable amongst all the Insurance Savings Plans.
PET gives you full access and flexibility to your savings with liquidity
To withdraw, make a request via the mobile app and choose to receive the partial withdrawal amount via PayNow (using your NRIC) or to your own POSB or DBS account via direct credit. The minimum withdrawal amount is S$1.
Dash PET is a yearly renewable plan and the policy term is 1 year. At the end of 1 year policy term, your Dash PET policy will be renewed automatically for another 1 year at the same conditions on the expiry date before renewal.
To spend the money from Dash PET, simply transfer the money from Dash PET to your Dash Wallet.
Singlife vs GIGANTIQ vs Dash EasyEarn vs Dash PET
Between these 3 new insurance savings plans, what are the differences and which is the best for you?
Check out our Insurance Savings Plan Comparison Guide to find out if Dash EasyEarn is the best insurance savings plan!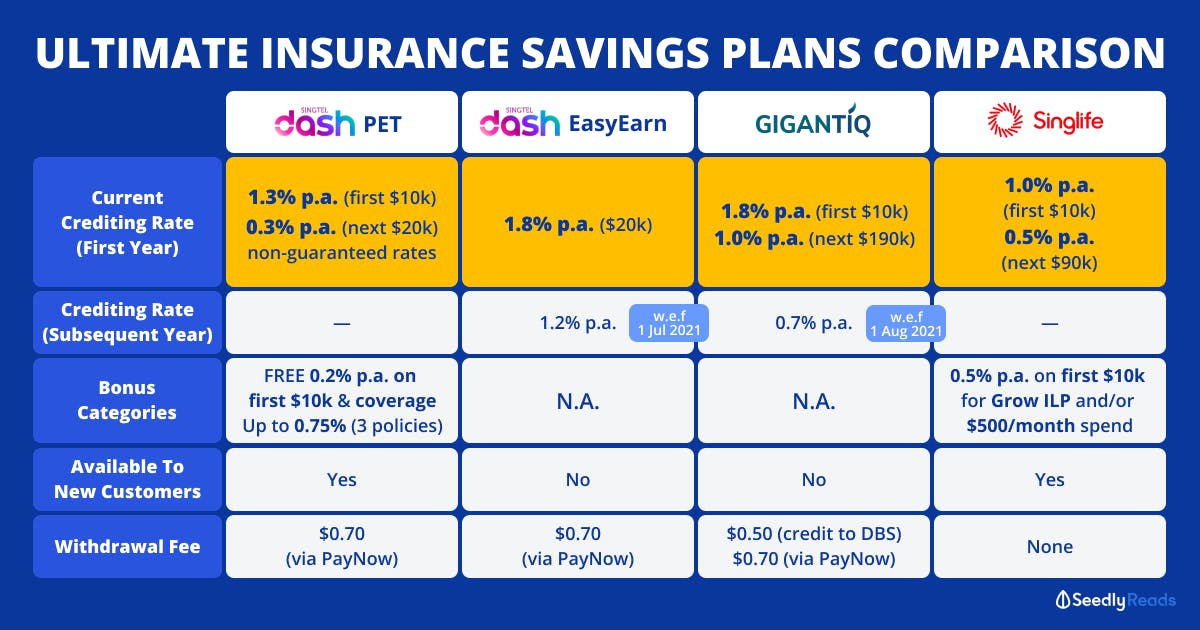 How Do I Apply for Singtel Dash PET?
Download and Launch the Singtel Dash App
Tap 'Grow Money'
Sign up for Dash PET by filling in your particulars and verifying your identity with a valid photo ID
Top up your Dash PET account and start growing your savings!
Who Can Apply For Singtel Dash PET?
Currently, PET is only available to Singtel Dash users.
On top of that, you'll need to fulfil the following eligibility criteria:
You are a Singapore citizen or PR with a valid NRIC, OR
You are a foreigner with a valid work pass or permit, or a Long-Term Visit Pass
You are between 17 to 75 years old (age as of next birthday)
Not sure if you're eligible?
Chill. Just sign up or log in to your Singtel Dash app to check your eligibility.
Already have Singtel Dash EasyEarn?
Even if you already have a Singtel Dash EasyEarn account, you can still sign up for Dash PET.
Fees and Charges for Singtel Dash EasyEarn
A transaction fee of S$0.70 will be charged for each partial withdrawal request through PayNow. However, no transaction fee is applicable for partial withdrawal request into Dash Wallet.
Minimum Withdrawal Amount: S$1
Minimum Account Balance: S$50
Minimum Initial Deposit: S$50
Minimum Account Balance: S$1
Contact Etiqa
Customer Service Tel: +65 6887 8777
Main Office Tel: +65 6336 0477
Address: 16 Raffles Quay, Hong Leong Building, #01-04A, Singapore 048581
Contact us at [email protected] should you require any assistance or spot any inaccuracies.