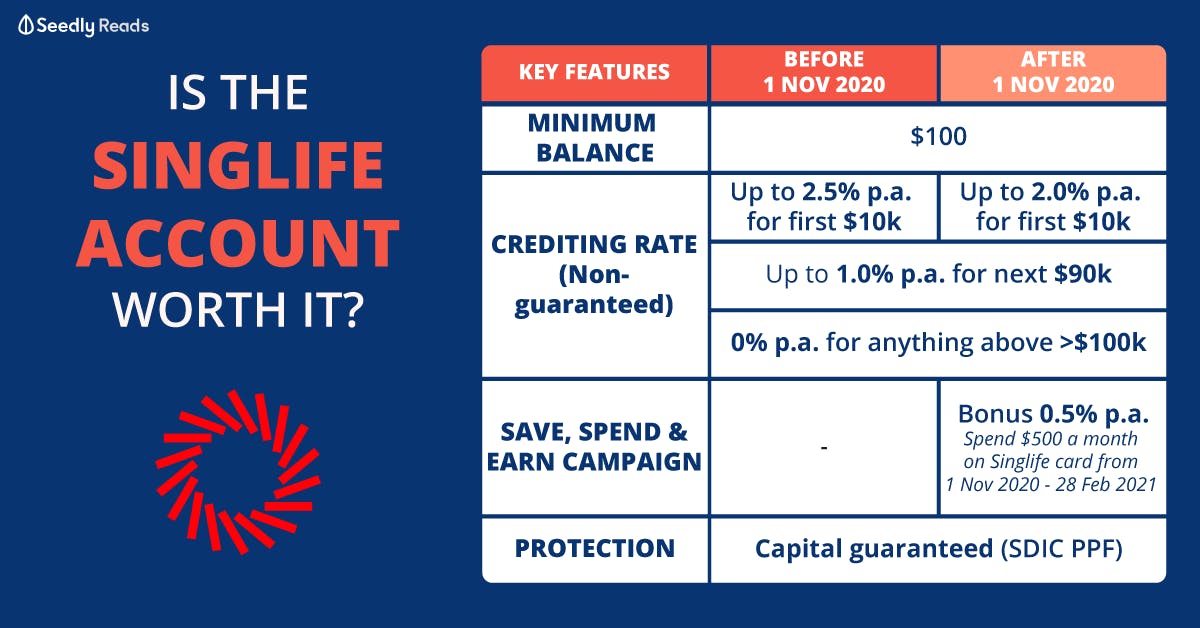 Highest Interest Rates for Singlife Account
How do you maximise the returns for Singlife Account?
Singlife's interest rates are straight-forward. The returns per annum for Singlife Account is 2.0% p.a. for account balances of up to S$10,000. Returns are not guaranteed.
2.0% p.a. on the first S$10,000
1.0% p.a. for the next S$90,000
0% for anything amount above S$100,000
New addition of bonus interest rates of 0.5% p.a. if you spend at least S$500 on your Singlife Card per policy month - this is a limited time offer from 1 November 2020 to 28 February 2021.
Benefits of Singlife
Probably the highest interest rates offered by Savings accounts that do not require additional expenditure or investments.
Singlife Account is an insurance savings plan that gives you access to your savings via the Singlife App and Singlife Visa Debit Card
There is flexibility in accessing funds anytime and earn competitive interest rates.
It also comes with a Visa debit card with no monthly or annual fees.
Singlife vs GIGANTIQ vs EasyEarn, what are the differences and which is the best for you? Check out our Insurance Savings Plan Guide here
Eligibility: who can apply for Singlife Account
Singapore resident with valid NRIC or Fin
Aged between 18 and 65
Valid Singapore number and Singapore residential address
How to apply for Singlife?
Download the Singlife App on your mobile phone.
Set-up a Singlife ID & apply for your Singlife Account
Start with just $500 (transfer via FAST, from your OWN bank account)
Only one Singlife Account per person
About Singlife
Singlife is a homegrown wealth technology company in Singapore, the first since 1970 to be licensed as a life insurance company by the Monetary Authority of Singapore. The company offers digitally-enabled financial services that create a connected consumer financial journey and interface to manage, grow, and protect the wealth and financial well-being of its customers. Singlife is backed by leading insurance, wealth management, and financial services companies including Sumitomo Life, Aflac Incorporated, Aberdeen Standard Investments, and IPGL (Holdings) Limited, standing as one of the top-funded homegrown fintech companies in Singapore. It was most recently listed as one of "The World's 100 Leading Fintech Innovators in 2018" by KPMG.