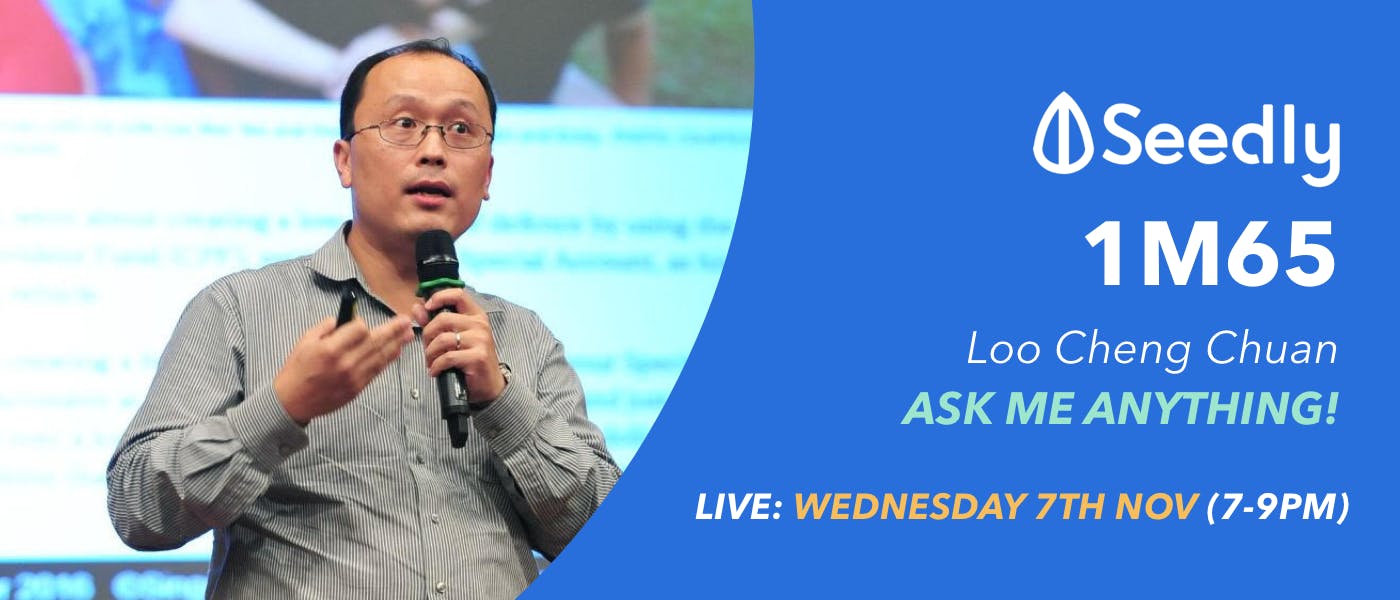 (AMA Ended) I reached $1 Million in CPF savings by 45 years old. Ask me anything!
NOTE: This AMA has ended! It was held on 7th November 2018! Simply search for all tags "AMA 1M65". It was a fun one. Thanks!
Hi Seedly Community!
My name is Loo Cheng Chuan, but most people know me as 1M65 (S$1 Million By 65 years old). I am an ordinary Singaporean with an extraordinary CPF investment strategy that could help many Singaporean couples become millionaires at retirement. 
In 2018, my wife and I crossed S$1M in our CPF savings at 45 years old, proving many skeptics wrong. I advocate a contrarian-type investment strategy to reap lucrative returns by investing heavily in equity markets during financial crisis which has been featured in Straits Times, BT and many other online media.
Working in the corporate world for about two decades, my 1M65 strategy and financial assets have given me an early retirement at 43 years of age to pursue an entrepreneurial passion with my wife. I was educated locally and abroad. Apart from that, I have three lovely teenagers that are also deeply grounded with good financial values and it is my firm belief that wealth building starts young.
I am here to answer your questions in the following areas:
How you can save 1M just by using your CPF?
Why CPF is a good strategy as a long term 'bond' savings?
General Wealth Management or investment mindset?
Any forms of personal finances tips or rules?
Stock Investing during financial crisis and why I do it?
Should you invest in Unit Trust or REITs?
Family financial planning and starting a family in Singapore?
What does Retirement at 43 feel like?
NOTE: The host may choose at his/her preference to not answer particular questions. The AMA is moderated by Kenneth from Seedly, so let's keep the questions friendly and open!